Summary: Lena Haloway is content in her safe, government-managed society. She feels (mostly) relaxed about the future in which her husband and career will be decided, and looks forward to turning 18, when she'll be cured of deliria, a.k.a. love. She tries not to think about her mother's suicide (her last words to Lena were a forbidden "I love you") or the supposed "Invalid" community made up of the uncured just beyond her Portland, Maine, border. There's no real point—she believes her government knows how to best protect its people, and should do so at any cost. But 95 days before her cure, Lena meets Alex, a confident and mysterious young man who makes her heart flutter and her skin turn red-hot. As their romance blossoms, Lena begins to doubt the intentions of those in power, and fears that her world will turn gray should she submit to the procedure. 
What Rhea thought:
 I had Delirium on my Kindle for more time than any other book. Somehow, to me, the cover was off putting. Strange huh? However, that being said when I did end up reading the book, I received the knock on my head I deserved, and it was two weeks of absolute bliss. 

The first chapters somehow bored me to hell. While the information given was absolutely required, there was too much of unnecessary description- sights, sounds, hell even colors were given too much importance. But Lena -the lead – is a great, strong character and even though she sees and smells too much, I found myself liking that girl way too much. Her friend Hana was another character that I took an immediate liking to.

The book is set somewhere in the future and the USA has banned Amor Deliria Nervosa aka Love. The adults have to compulsorily go through a procedure where a chemical is injected into your brain and you have basically lost the ability to love, feel pain, etcetera. Lena is seventeen and anxiously awaiting the procedure and when she does have it, a herd of bulls are released into the examination room by Invalids – rebels – and it all goes awry and Lena has to wait for a new date.

Enter Lena's love interest Alex. Alex is an absolute darling who works his way through Lena's scared heart and teaches her love. Alex, I completely love. He's an Invalid – as is later revealed – but Lena loves him regardless.

There's aunt Carol, uncle William, Lena's sister Rachel, her cousins Gracie and Jenny all mentioned throughout the story but I'm not going to go there. They're side characters and you'll learn about them as you go. However when they discover that Lena has caught the disease, they tie her up to her bed and the schedule for her procedure moves back, she's supposed to have it two days later. An attempt to escape is made and Alex shows to rescue her on a motor bike 🙂 (I'm a sucker for being rescued on motorbikes! And it actually happened here.)

Let's cut short the chase. Lena makes it across the border to the Wilds where the Invalids stay. Alex doesn't. He's shot at, and that's where the book ends. But one thing is clear. Alex doesn't make it. And there lies my second and last complain with the author.

Why doesn't Alex make it? 

Apparently, in the second book in the series, Pandemonium, Lena has a new love interest. When I found this out, I did my usual whining, crying out at the heavens – why, god why? – but I'm good now. 

All in all Delirium is an okay read and I would totally recommend it to everyone who loves alternate Americas and rescuers on motorcycles :p
Didn't work for me but that's no reason to not try it yourself.
Final Verdict: ★★★
About the author: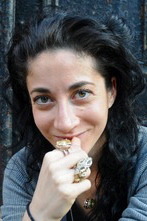 Lauren Oliver comes from a family of writers and so has always (mistakenly) believed that spending hours in front of the computer every day, mulling over the difference between "chortling" and "chuckling," is normal. She has always been an avid reader. 

She attended the University of Chicago, where she continued to be as impractical as possible by majoring in philosophy and literature. After college, she attended the MFA program at NYU and worked briefly as the world's worst editorial assistant, and only marginally better assistant editor, at a major publishing house in New York. Her major career contributions during this time were flouting the corporate dress code at every possible turn and repeatedly breaking the printer. Before I Fall is her first published novel. 

She is deeply grateful for the chance to continue writing, as she has never been particularly good at anything else.
Find Lauren on her website.