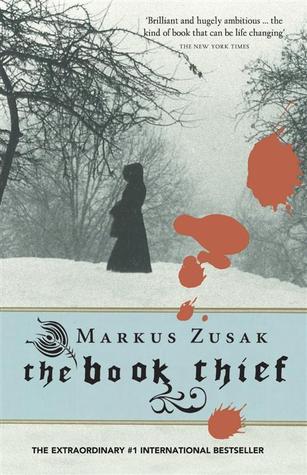 Synopsis:  It is 1939. Nazi Germany. The country is holding its breath. Death has never been busier, and will be busier still.
By her brother's graveside, Liesel's life is changed when she picks up a single object, partially hidden in the snow. It is The Gravedigger's Handbook, left behind there by accident, and it is her first act of book thievery.
So begins a love affair with books and words, as Liesel, with the help of her accordian-playing foster father, learns to read. Soon she is stealing books from Nazi book-burnings, the mayor's wife's library, wherever there are books to be found.
But these are dangerous times. When Liesel's foster family hides a Jewish fist-fighter in their basement, Liesel's world is both opened up, and closed down.
What Rhea thought:
"First the colours.
Then the humans.
That's usually how I see things.
Or at least, how I try."
The Book Thief is narrated by Death, himself. Death—although portrayed as almost sympathetic—watches from afar the life of Liesel Meminger who is the thief herself. An adopted daughter to Hans and Rosa Hubermann, she finds her consolation in words.
Stolen words that start to give her a sense of camaraderie with her foster father.
Stolen words that comfort her neighbors in basements during bombing raids.
Stolen words that comfort a Jewish man in her basement.
Death has a personality. He warns you ahead of time when something bad is about to happen. He feels the same trepidation, the same sense of foreboding you will when you know something's wrong. He's trying to understand the human race as desperately as humans are.
Muskus Zusak accomplished a great feat – making me ache for the people and children of Nazi Germany, reminding me that people , whether good or bad, deserved to be loved because they are, after all, only human.
This book is an ode to the people who managed to keep their humanity in the midst of war, a tribute to the people who did not succumb to the evil around them and an acknowledgement of all those brave souls who were punished for doing what was right.
"So much good, so much evil. Just add water."
Rudy Steiner, the boy with hair the color of lemons, capable of so much love, so much life whose death devastated me. A death that was so casually and off-handedly mentioned by Death. A wasted life with so much potential, so much capability for doing good.
"How about a kiss, Saumensch?"
He stood waist-deep in the water for a few moments longer before climbing out and handing her the book. His pants clung to him, and he did not stop walking. In truth, I think he was afraid. Rudy Steiner was scared of the book thief's kiss. He must have longed for it so much. He must have loved her so incredibly hard. So hard that he would never ask for her lips again and would go to his grave without them."
Max Vandenburg, a Jewish nobody but someone you're going to cry for. He fist fights with the Fuhrer and somehow, he's going to fight his way into your heart.
"THE LAST WORDS OF MAX VANDENBURG: You've done enough."
Rosa Hubermann. She's described as being the woman with a filthy mouth and a wardrobe figure. And yet you know. You just know that this woman has a heart of gold.
 "Make no mistake, the woman had a heart. She had a bigger one that people would think. There was a lot in it, stored up, high in miles of hidden shelving. Remember that she was the woman with the instrument strapped to her body in the long, moon-slit night."
But if there were a true "hero" of the story, so to speak, it would be Hans Hubermann. Death, in the earlier parts of the novel, describes Hans Hubermann as the type to slip by you unnoticed. The kind of gentle humility this man is capable of is astounding. And Hans's ability to be "not noticeable" turned out to be his greatest asset. A flashier guy may have not been able to hide a Jew in his basement for almost two years during the Holocaust. Hans has true strength of character as shown by his acts of resistance against the Nazi's and his willingness to risk everything for a Jew, which in those days could have only meant death.
 "His soul sat up. It met me. Those kinds of souls always do – the best ones. The ones who rise up and say "I know who you are and I am ready.Not that I want to go, of course, but I will come." Those souls are always light because more of them have been put out. More of them have already found their way to other places."
I could keep quoting this book forever but at some point words are just words. What's more important is that you remember and believe.
Remember that humanity is capable of good even in the worst situations.
Believe that amidst sorrow, there is joy. Amidst darkness, there is light. Amidst Death, there is always Life.
Final Verdict:If you love to read and if you love to care about the characters you read about and if you love to have your heart broken and mended on the same page, this book is for you. ★★★★★ are nothing for this book but they're all I can give.
About the Author:
Markus Zusak was born in 1975 and is the author of five books, including the international bestseller, The Book Thief , which is translated into more than forty languages. First released in 2005, The Book Thief has spent a total of 375 weeks on the New York Times bestseller list, and still remains there eight years after it first came out.

The Guardian calls The Book Thief "a novel of breathtaking scope, masterfully told." The New York Times: "Brilliant and hugely ambitious…the kind of book that can be life-changing." The Age: "an original, moving, beautifully written book."
Markus Zusak grew up in Sydney, Australia, and still lives there with his wife and two children.