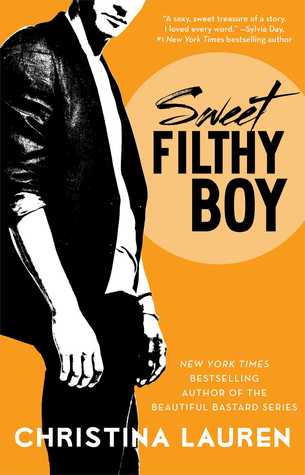 | Goodreads | Amazon | iBooks |
Synopsis:
One-night stands are supposed to be with someone convenient, or wickedly persuasive, or regrettable. They aren't supposed to be with someone like him.
But after a crazy Vegas weekend celebrating her college graduation—and terrified of the future path she knows is a cop-out—Mia Holland makes the wildest decision of her life: follow Ansel Guillaume—her sweet, filthy fling—to France for the summer and just…play.
When feelings begin to develop behind the provocative roles they take on, and their temporary masquerade adventures begin to feel real, Mia will have to decide if she belongs in the life she left because it was all wrong, or in the strange new one that seems worlds away.
What Rhea Thought:
Sweet Filthy Boy book starts right on a road trip with friends that you feel like you've known forever and a vacation to Vegas you feel like you've waited forever for.
When I began the book, I feared this was just another get-married-in-Vegas-and-slowly-fall-in-love kind of a book. It was. That was the concept. But it was so amah-zing, there's no way I couldn't fall in love with it.
Mia meets Ansel and the chemistry is raw, powerful, sizzling, intense. Just the way I like it. But it's also kind of hard to believe. They marry each other in a drunken stupor and she goes to Paris with him—she doesn't even know him! So—because that's what I do—I ignored the first 25% of the book.
But there's also some great lines in there:
"You're soft and wet and I worry I'm feeling to wild for this small, sweet body."
However the book picks up amazingly after they reach Paris. Ansel and Mia try to get to know each other and those scenes are the best. Albeit a bit awkward but funny. It's their chemistry that kept me hooked.
"You just implied you're banging me tonight."
His grin gets bigger as his hands snake around my waist. "Play your cards right."
"I forgot my cards."
His smile wilts dramatically. "But I did bring my penis."
Did I mention he's French? French dirty talk is so…dirty! I had no idea. It's the perfect oomph and you wouldn't believe how Ansel makes the simplest words sound absolutely filthy.
I stand on shaky legs peeling the stockings off, removing the skirt the bustier the frilly underwear.
He watches me, eyes dark and impatient and growls, "Allonge-toi." He lifts his chin repeating quietly in English. "Lie back."
So many feels! Love Love Love.
Be prepared for falling in love with two absolutely adorable characters.
Ansel and Mia have got some great friends—Harlow, Lola, Oliver and Finn. They're everything friends should be—supportive and almost downright violent when something is wrong. But they're really good supporting characters and I do believe we'll be seeing a lot more of them in the next books of the series.
The book is about 75% really, really hot sex but it's done so well, so realistically that it was hard to put down. And there's role play! There was a bit of a symbolism there, that I found really, really good. When Mia was unsure about Ansel, when she wasn't sure she was what he wanted, sex wasn't working out for them. I do remember that the first time they try to have sex in Paris, she doesn't even come.
And then she gets introduced to role play and it's just wow. Every. Damn. Time.
There are a series of misunderstandings that could have been avoided if Mia had just listened, but in a way, I'm glad she didn't. she got back a lot of her old life when she came back to America impulsively.
Psst, she got Ansel back too. *wink*
In the end, when they have their HEA, my heart just gave a big, fat sigh. It was so well deserved and I was so happy to see them together—the way they should be.
Final Verdict: Sweet French boy with a Filthy mouth and a penchant for role-play. Need I say more? ★★★★    
About the Author:
Christina Lauren is the combined pen name of long-time writing partners/besties/soulmates and brain-twins, Christina Hobbs and Lauren Billings, NYT/USA Today/#1 International bestselling authors of several Young Adult and Adult Fiction titles. Some of their books have kissing. Some of their books have A LOT of kissing.
Website | Christina's Twitter | Lauren's Twitter |