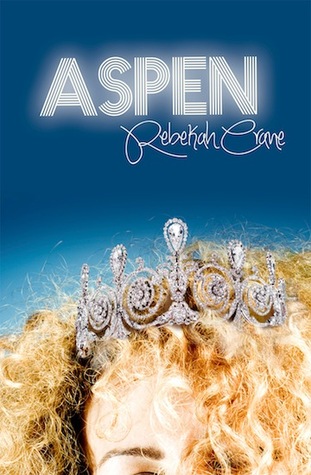 Aspen by Rebekah Crane
Date of Publishing : Jan 1st, 2014
Publisher: In This Together Media
Genres: Contemporary, Romance, YA
Links: Goodreads | Amazon | B&N |
My Rating: ★★★★
Synopsis
One quiet night in Boulder, Colorado, Aspen Yellow-Sunrise Taylor made a mistake.
In the next instant, her life changed forever.
Aspen doesn't want to remember the car accident that killed Katelyn Ryan, a sleek-haired popular soccer player. But forgetting is hard– because Katelyn may have died — but she didn't leave. Her ghost is following Aspen around, and heading into senior year, it's kind of a problem. Especially when Katelyn's former boyfriend Ben appears to be the only person at school with a clue as to how Aspen feels.
Popularity, Homecoming Court, hot guys – none of these things ever mattered to Aspen. She's been busy trying to keep her stoner mother Ninny in line and out of unemployment. But with Ben sitting next to her in Physics and her therapist begging her to remember all the things she wants to forget, Aspen is thrust into a vivid, challenging world she can't control … and doesn't want to.
A darkly funny, emotionally gripping story of opening up, letting go, and moving on, Aspen is about the best-worst accident of your life … and what comes next.
My Review
Katelyn died in the car accident that Aspen believes was her doing. And now Katelyn won't leave her alone. And then there's the small issue of Aspen having a crush on Ben—Katelyn's grieving boyfriend.
Aspen is, in my opinion, the perfect representation of what gems in the YA category look—and read—like. It deals with social issues, while also maintaining an aura of dark satire around it.
As a girl, Aspen has many petty issues that girls actually have. As a girl recovering from the trauma of an accident that led to a death of another young girl, Aspen has issues larger than she'd care to admit.
Fortunately, I've never been in an accident myself, but when I looked at the way Aspen dealt with her PTSD—by really not dealing with it—I imagine that would be how a teenager would react. Also, Miss Crane did a wonderful job writing from the point of view of a teenager. It was exactly the way a teen would talk or react in certain situations.
The book is very character driven and that's good, because I found myself falling in love with every character—even Ninny, Aspen's hippie, pot-smoking mother.
Aspen herself is a joy to read, considering she is absolutely my favorite type of heroine. She's independent, funny, smart, not to mention she's kind of bizarre in front of her crush—Ben.
Ben is kind of an enigma. He is the perfect example of mixed signals. I'm kind of still on the fence about whether or not I liked the fact that Ben was throwing all kinds of vibes at Aspen until the very end, but I'm willing to let that go because for me, the story was more about (not) dealing with PTSD and overcoming it.
The story line—the actual story—isn't revealed until the very end. Where the entire book only consists of Katelyn's friends talking good about her, you find yourself curious to know about the real her—the one that only her close friends know about.
I loved the supporting characters—Cass, Kim, Suzy—and the banter they provided. On a completely unrelated note: Note to Miss Rebekah Crane – We totally need a book on Kim and Cass.
No seriously, you can't help but love these two.
The entire thing surrounding the Katelyn's ghost following Aspen around was what drew me to the book in the first place. The ending was satisfying, but actually left me with more questions than anything.
So was Katelyn a manifestation of Aspen's guilt or was there really a ghost there?
What about Kim and Cass? Will they ever come out to each other about their feelings?
What's in store for Ben and Aspen?
Overall, Aspen has been one of THE best books this year, owing to the fact that the storyline was unique and the characters extremely lovable.
Favorite Quotes:
"You know what Im really mad at Katelyn for? I'm mad at her for not living. Happiness isn't a given in life. And when you're happy you should hold onto it."
"Don't they know we're all one accident away from death? There might not be a tomorrow for them to love each other."
About the Author
 *I received a free ecopy of this book in exchange for an honest review.*