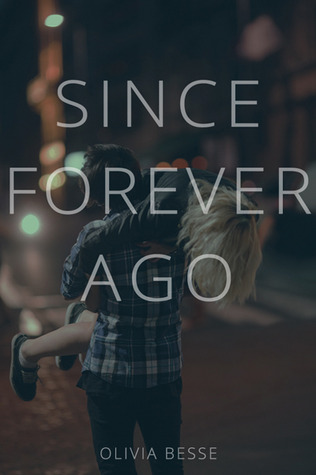 Since Forever Ago by Olivia Besse
Date of Publishing : May 13th 2014
Publisher: Wunderland Press
Genres: New Adult, Contemporary, Romance
Links: Goodreads | Amazon | B&N |
My Rating: ★★★
Synopsis
Fresh off the heels of a devastating breakup, Riley Benson is a mess. But with her ingenious plan to become a ball-busting heartbreaker herself, she's pretty sure she'll survive. After all, what better way is there to get revenge than to move on?
Riley's determined to become the perfect bachelorette—she's going to drink like a bro, belch like a beast and swear so much that she'll make even the most seasoned sailors blush. After all, those are the qualities that every guy's secretly looking for…. aren't they?
Max Fletcher is in love with the girl who gave him chicken pox and his first broken leg. When his best friend seems to finally be out of the picture, he can't help but want to keep Riley all to himself. And, after coaching her with the very best of the very worst love advice, it seems as if he might actually get what he's wanted after all those years. But just as the two come to the realization that they're actually kind of perfect for each other, along comes a secret that threatens to tear them apart.
My Review
First things first: When I went over Goodreads reviews on this book, meaning to see the response people had had to this book, I wasn't surprised. Many people ending up calling the characters in this book "whiney," "immature," etc. and believe me, they are. Absolutely. But there was another thing that caught my eye. When I got this book from the publisher over at NetGalley, I noticed that this is what the author's note said:
Unfortunately, many reviewers have provided feedback that they could not stand the characters in this story due to their being whiny, immature and a little bit clueless. In my opinion, however, all of these attributes define the 20-something population, and I wanted the characters in my book to portray what new adults are actually like.
 I just wanted to add the disclaimer that the characters will be irritating, melodramatic and annoying as hell. They swear, they drink and they make bad decisions. They are 21-year-olds. Comes with the territory 🙂
The author has also written basically the same thing on Goodreads when there were too many unfavorable reviews.
This greatly saddened me. To understand why, we're going to have go over the content of the book itself.
Riley has just broken up with her boyfriend, Noah, of 6 years after he cheated with her with an "army of sluts." She's heartbroken and devastated and has no one but a bunch of crazy best girl friends to rely on. And I mean crazy in the best way possible. Liz and Audrey—the said best girl friends—are the type of friends you would KILL to have in your life.
They're judgmental, give bad advice, are equally boy-crazy and I loved them! So much awesomeness amongst these three girls!
And then there's Riley's best boy friend, (note the gap between the words) Max. I absolutely adored Max. He's made mistakes, sure, but really at the age of 21, who doesn't? But he's so patient and his inner rants are so cute! He's adorable with his shyness and the way he blushes and ungh. So good. And he loves Riley. She just doesn't see it.
A lot of fun things happen from the time Riley breaks up with Noah to the time she falls into bed with Max (yay!) and they are all realistic and utterly believable.
I can see how people would think Riley is melodramatic/whiney/immature, but I'd like you to kindly think back to the time when you were 21. Weren't you the same? Maybe worse?
Thought so.
Sometimes, in books like these, you have to learn to accept the characters and think outside the box, in order to appreciate the ride that the story takes you on. And boy does Since Forever Ago take you on a fun-filled ride.
The book was entertaining throughout, with the inner dialogue and the bad decisions. I'd recommend it if you're into the whole friends-turned-into-more thing.
About the Author
Olivia is a New Adult who pens novels about New Adults. Having spent much of her best years slaving away in the not-so-glamorous industries of fashion and PR, she has a never-ending supply of insider knowledge and horrifying experiences from which to draw from in order to create fun and unique stories. She currently resides in New York and is moonlighting as a writer to keep what's left of her sanity.
|  Website | Blog |  Facebook | Goodreads |
 *I received a free ecopy of this book in exchange for an honest review.*