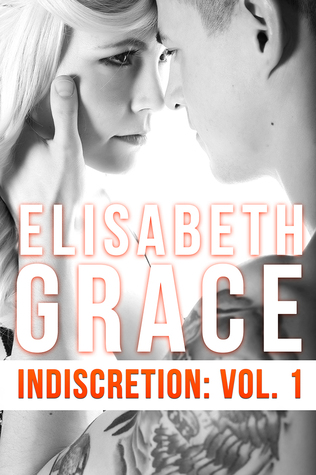 Indiscretion: Volume One by Elisabeth Grace
Date of Publishing : August 4th, 2014
Genres: Contemporary, New Adult, Romance
Links: Goodreads | Amazon | Barnes & Noble | Kobo | iTunes
My Rating: ★★★★
Synopsis
F*ck and chuck. Pump and dump. Hit it and quit it. One night stand. Didn't matter how I branded it—that's all she had wanted it to be. That much was clear when she left me with my pants down and my dick still out.
What she hadn't counted on was fate intervening and our worlds colliding—again.
The day I showed back up in the life of Chloe Griffins, I knew I had to have her again. My body was hungry for another taste. Like an addict, I'd been craving another hit for months, and there she was—flesh and bone, tits and ass.
The fact that she worked for the competition should've been reason enough for me to leave her alone. I had a job to do that summer and f*cking Chloe wasn't part of it. But I was like a man possessed.
I'd do whatever it took to have her again.
My Review
I just finished reading Indiscretion two hours ago. And wow.
I don't usually do this. As a matter of principle I don't fangirl over novellas. I don't squeal over books that left me hanging.
Or, I didn't used to do that.
Honestly, though, what right does Miss Grace think she has leaving us hanging there? It was going so well. There were no words. And then poof.
TO BE CONTINUED.
Like how is a girl supposed to react after a cliffhanger like that? How? HOW?
Chloe's best friend Jackie thinks she needs to loosen up and have fun with some boys. Chloe's been hurt before, though, and does not wish to be hurt again. So after a "tête-à-tête" with Max in a bachelor party, she moves on with work and life.
Except, Max doesn't. she's consumed his thoughts and when a happy turn of events leads them to each other again, the chemistry is mind-blowing and everything just sizzles between these two.
Max is a bit closed off, but we do learn some stuff about his past. His father is a business tycoon and he comes from money, but I like fact that he doesn't want to be known by his father's identity. He wants to be his own person and I loved that about him. He was one of the few characters I've read that I actually liked the first time I read him. He left a lasting first impression.
Especially on Chloe.
The book is a part of a four volume series and I, for one, cannot WAIT to read about these two. I loved Max, Chloe is just the right amount of sass and sexiness and they're amazing with each other.
Although the premise does state that they're competitors, it didn't feel like it in the book. But I'm going to wait to read Volume 2 before I really make a comment on that. Sadly, Max is not a dirty talker—yet—which was something I was kind of banking upon, but hey. He sang Britney Spears. I'm cool with anything a guy like that has to offer.
Indiscretion: Volume One oozes sexual tension and trust me on this: You're not going to want to stop at Volume One. It ends at a pull-out-your-hair type of a cliff hanger but the book is just completely worth it 😀
My favorite quotes:
"Please, you were the one who kissed me first!" "True, but you were the one who straddled me like you were gearing up to ride bronco."
"Quite a mix of innocence and seduction, Chloe. Why do I have a feeling this might be a reflection of you as a whole."
"Come for me, Chloe," he said huskily. It was an order, not a request. Was it wrong that it totally turned me on?
About the Author
I have a soft spot for romance novels with happily ever afters and a hot spot for alpha males! I currently live outside Toronto, Canada with my hubby and two small children. Life is busy, but never to busy for a good story and to share my love of reading and writing with others.
For more of the lowdown on me feel free to visit my author website at http://www.Elisabeth-Grace.com
Website | Facebook | Twitter | Goodreads | Pinterest | Google+ | Instagram
*I was provided a free ecopy of this book in exchange of an honest review*