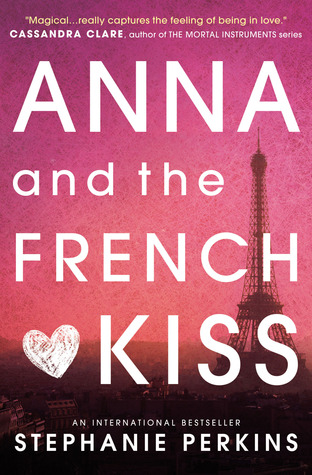 Anna and the French Kiss (Anna and the French Kiss #1)  by Stephanie Perkins
Date of Publishing : December 2nd, 2010
Publisher: Dutton
Genres: Contemporary, Young Adult, Romance
Links: Goodreads | Amazon | B&N |
My Rating: ★★
Synopsis
Anna has everything figured out – she was about to start senior year with her best friend, she had a great weekend job, and her huge work crush looked as if it might finally be going somewhere… Until her dad decides to send her 4383 miles away to Paris. On her own.
But despite not speaking a word of French, Anna finds herself making new friends, including Etienne, the smart, beautiful boy from the floor above. But he's taken – and Anna might be too. Will a year of romantic near-missed end with the French kiss she's been waiting for?
My Review
Sometimes you read books that are bad. Like really, really visibly bad but you can't stop reading and they make you want to pull your hair out because you really want to stop reading them but you can't. And at the end of the book you actually like it not because of the content, mind you, because it kept you entertained.
My involvement with this book started out innocently enough back in 2011. Anna and the French Kiss had been published for some time and many, many book friends of mine were going nuts about someone I only knew as St. Clair. Why on Earth they only preferred to call him by his last name was beyond me. So I bought the book.
And one week ago, I finally read it. This may seem really odd to you, that I've had a book—a physical fucking copy—but didn't read it for two years BUT the thing is, I gave it away. And it never came back.
So I bought the book again—on my Kindle—and here we are.
Anna and the French Kiss is a waste of precious paper. I extend my kindest sympathies to all the trees that died in the making of this sad, sad book that really, really needed a fucking plot.
And maybe, I dunno, characters with a bit of PERSONALITY.
Anna is forced to spend a year of schooling in Paris. Yeah. Worst punishment ever. She wants to be a film critic and I know for a fact that she's going to suck balls at her job because she didn't even think Paris has cinemas. Paris. The fucking home of film.
Also: she's tasting a Panini for the first time? She stays in Atlanta, which is "one of the biggest cities in America" and she hasn't ever tasted a Panini? Do you not get that piece of heaven in America?
Here are some things I'd tell Anna if I met her:
Anna: The only French word I know is oui, which means "yes," and only recently did I learn it's spelled o-u-i and not w-e-e.
Rhea: You are a dumb fuck of epic proportions. You knew you were going to France. Did you not bother learning to spell basic, toddler stuff in French? What kind of a dumb fuck are you? Oh yes. One of epic proportions.
Anna: My dream is to study film theory in California. I want to be our nation's greatest female film critic.
Rhea: Oh sweetheart, that's not happening. Especially if you're going to go to Paris, the fucking home of cinema, and watch American movies.
Anna: I mean I didn't SLEEP sleep with him. Obviously. But I slept with him.
I slept with a boy! I burrow back down into my sheets and grin.
Rhea: You go, girl! Considering said boy had a girlfriend and you knew that and you still slept beside him for three days in a row. You make mommy proud.
Anna: I wonder if Matt is a better kisser now that he has someone more experienced to practice on. He was probably a bad kisser because of me.
Oh, no.

I'm a bad kisser. I am, I must be.
Someday I'll be awarded a statue shaped like a pair of lips, and it'll be engraved with the words WORLD'S WORST KISSER. And Matt will give a speech about how he only dated me because he was desperate, but I didn't put out, so I was a waste of time because Cherrie Milliken liked him all along and she totally puts out.
Oh God. Does Toph think I'm a bad kisser?
Rhea: 
Let's talk about Étienne St. Clair. I suppose we must. But this guy is seriously awful. He is a cheating, lying bastard whom I do not wish to waste time upon but this entire book has been a waste of time, so what the hell?
Étienne St. Clair basically promotes this: If you're in a relationship with a bitch but like someone who isn't, you string them both along. For a year.
St. Clair is American BUT has a British accent AND is fluent in French. He's the typical YA hero and he's probably everything you need in a life partner and he's just perfect but somehow, I don't see the two of these amazingly flaky personalities working out. I don't. Also: His hair smells good and he tastes like honey…?
He's UNBEARABLE. That's what he is.
The supporting characters are just as paper thin as these two are. Maybe more so. They come and go as and when the plot requires them to and it's really terrible to witness as a reader.
I wanted to like this book—considering I paid for it twice—but this entire book has been something out of a nightmare. Am I going to read this book again? No. Am I going to talk about this book again? No. Am I even going to think about this book again?
PS: I've been to Paris and I know for a fact that Parisians are one of the most helpful and kindest people I've met, and so for your sanity and because of our shared love of Paris, dear Parisians, I suggest you not read this book.
Thank you.
About the Author:
Hi, there! I'm Steph, and I wrote ANNA AND THE FRENCH KISS and LOLA AND THE BOY NEXT DOOR. They have funny bits and kissing, so you should totally read them. If you're into that sort of thing. The final companion is called ISLA AND THE HAPPILY EVER AFTER, and it will be released in August 2014. I also edited (and contributed a short story to) a romantic holiday anthology called MY TRUE LOVE GAVE TO ME (October 2014). My next novel will be horror—a teen slasher published by Dutton.