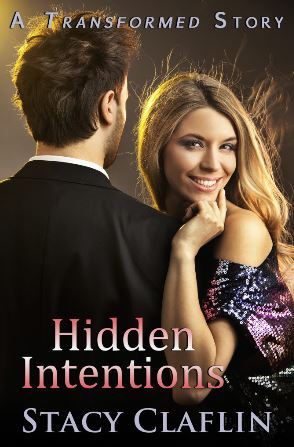 Hidden Intentions by Stacy Claflin
(The Transformed)
Date of Publishing : Summer 2014
Genres: New Adult, Paranormal Romance
Links: Goodreads | Amazon | B&N |
My Rating: ★
Synopsis
Fun-loving Clara is keeping a dark and deadly secret from William, the love of her life.
Not because she wants to hide things from him, but because her story is so unbelievable he will probably think she's crazy.
If she tells him, she could lose him. If she doesn't tell him, she will.
My Review
 Okay so first 20% into the book and I thought, "No. This cannot be happening. No way in hell can this be happening to me again."
So how to put this without:
 Sounding like a complete bitch.
Not giving away the plot
Still reviewing with minimum spoilers
The story wasn't half bad. In fact the concept was completely new and I was left completely shocked when Clara Erikson's "secret" was revealed. It was NOT what I expected—at all—and while I love books that surprise me, the entire thing just started to go downhill as soon as I made the connection.
Hidden Intentions starts off with Clara trying to think of what she'll do if her boyfriend of almost two years, William Lennox, proposes to her in an airport terminal. He actually starts to, but she distracts him.
We then move on to see William's perspective and learn about this sad, sad guy with oppressive parents and a will to be perfect in life. His father wants him to focus on his studies and not get into a serious relationship until he finishes college. William, however is a total rebel, we learn, considering he's been going out with Clara behind mommy and daddy's backs for two years.
Now this is what I learnt:
 William met Clara in high school.
He went away to study in England.
This girl, Clara, went away with him to England.
While William took classes, Clara went sightseeing.
Now there are some things that are believable, some things that you're not quite sure can happen and some that are just downright laughable. This woman that he went to high school with was "sightseeing" while he was studying in a foreign country? I can understand taking a break from studying but following him to England, and then looking around for—what—a year?
By this point, I had already started to give up hope.
Then we get to the part where Clara debates on exactly how to tell him her big secret. Now I could go on and on about the number of clichés I found in there, but that would be giving too much away. But I'm pretty sure once you read it, you'll know.
Remember when I mentioned William's apparently stick-up-the-ass daddy? Throughout the book, there were rarely any instances when I feel Will Sr. was unfair. Sure he's a bit…fast-paced? That's the best thing I could come up with. He's quick, and a no time to rest kind of a person, but that's not too bad, is it? And when William tried to stand up to daddy, Will Sr. actually smiled. And then proceeded to say: "You ridiculous spine-less piece of shit. That's what your mother and I wanted all along. For you to stand up for yourself. And now you're doing it? Now?"
Not exactly what he said, but it was close.
This story jumped around way too much for my liking. One moment there's witches, then bombings, then wars, communism discussions, mentally disturbed blondes. You ask for it, and it's there.
Like I said, there was a bombing involved. Something about Communist countries hating the President and Natalie (a friend of Clara's) says this, while she's worried about her fiancé Brayden.
"Why not just pick any communist country and attack? Show them we won't be messed with." Tears filled Natalie's eyes." They have no right to do this."
Uncle John shook his head. "We can't do that, dear. We wouldn't get the backing of any other countries if we did. Although, the anti-communist countries are backing us up."
Now, I'm hoping the author (and her editor) did not mean to imply that the country would just up and bomb one random country for another country's fault. I understand that Natalie was distressed but that statement just didn't sit too well with me.
The chemistry between Clara and William is a whole another thing altogether. If the plot between these two wasn't ridiculously obvious, I would never know that they're supposed to be together together. They seemed much like a well-greased machine—but more like what a couple of siblings would be. Even their sappy talk and kisses seemed sort of forced to me.
The writing seemed very, very dependent on dialogue. And again, like so many other books I've read this month, it seemed to follow a "this happened—then this happened" approach. It told and didn't show.
The idea of the book was really good but the actual book seemed to fail to deliver.
About the Author
I love writing, reading, and watching most anything paranormal. My favorite shows include Supernatural, Vampire Diaries, Fringe, Pretty Little Liars, and Once Upon a Time.
I've been writing and telling stories for as long as I can remember. As a kid, my story telling would get me into trouble when I would try to convince others that my stories were real.
When I'm not busy writing, I spend time with my family. I also run a home preschool and educate my kids from home.
You can learn more about my current and upcoming books at StacyClaflin.com. I'd love to hear from you!
*I was provided with a free copy of this novel in exchange for an honest review. That does not–in any way–influence my review of this book.*