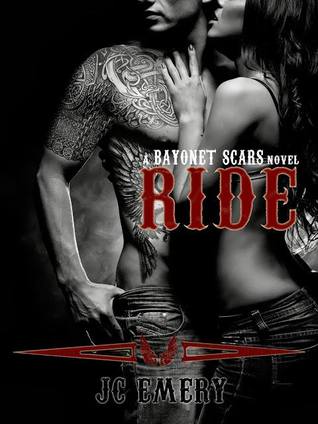 Ride by J. C. Emery
(Bayonet Scars #1)
Genres: New Adult, Romance, Contemporary
My Rating: ★★
Death comes in Armani. Salvation comes in leather.
Principessa to the Mancuso crime family, Alexandra knows a thing or two about living outside the bounds of the law. Suffocated by the future her father has laid out for her, she makes a choice she can't take back, changing the entire trajectory of her life.
Thrust into the dark and dangerous world of the Forsaken Motorcycle Club for her own protection, Alex finds herself faced with the last thing she needs right now: the man of her dreams. He's sex in leather, the devil incarnate, and one hell of a kisser. But he's also off-limits. Ryan Stone can be her friend, but he's forbidden to be her lover.
Third-generation Forsaken, Ryan knows nothing other than life on two wheels, and he wouldn't have it any other way. He enjoys the many privileges that come with the patch, and the only laws he recognizes are the ones set-forth by his club. That is, until who he wants more than anything isn't allowed on the back of his bike —or in his bed. Balancing his desire for her body, and need to keep her safe, Ryan tries to keep Alex at a distance. Finally having made a choice for herself, she's done hearing the word "no" and will push boundaries even Ryan himself doesn't dare cross.
Love is never more tempting than when it's forbidden.
Review
October seemed to be the month of firsts because at the beginning of the last week of the month I read Fighters Desire (#0.5, #0.6), which was the first time I read about MMA fighters. And Ride is my first attempt at reading about MC dudes.
And I liked it. The whole thing with the bikes and the reputations and the fights and the wild lifestyles…I liked 'em all. But my main problem lies with the characters of Ride themselves.
Alexandra Mancuso is a mafia lord's daughter. She's taught from her very birth to be docile and submissive. But there were places she was sassy and in-your-face, which I liked. She was kind of your typical vulnerable heroine with a need for freedom.
The entire story revolves how in one second of misjudgment, Alex pretty much becomes the Mancuso family's biggest enemy. She's pretty sure her father is going to kill her but she's rescued in the nick of time by her deceased mother's twin sister…who happens to be Ryan's step-mom.
The story then goes on to explore Alex's (non) adjustment with the Forsaken MC—a place where she's forced to bend every rule that her father imposed on her. The men here are loud and crass and everything she's not used to. And then there's Ryan Stone.
Ryan Stone, a part of the Forsaken MC, is a complete dick for 100% of the book. There isn't one thing I liked about this guy. He uses women and he's crude and OMG he's the biggest jerk to Alex. He was so, so cruel, I'm pretty sure I'm going to measure other assholes against him. And yet, this guy has kind of grown on me. Believe me, it's the strangest thing.
The story was pretty much non-existent. The entire book, the Forsaken are pretty much waiting for the Mancusos to show up and whisk Alex away. There's also a pretty big secret that's revealed but it was predictable from the very start.
At least to me.
And with all honesty, I wasn't shipping Alex and Ryan AT ALL. I was all for Alex with Duke but eh. Life happens. And after having read Duke with Nic…damn. Just damn.
The ending of Ride felt a bit rushed and there's kind of no closure. No look at the future, to see if these two really worked out. All in all, Ride was a bit of a wild journey and even though I didn't particularly like Ryan—owing to the fact that I really couldn't see what Alex liked about him anyway—I pretty much loved the whole concept of MCs and mob bosses 😀
As a child, JC was fascinated by things that went bump in the night. As they say, some things never change. Now, as an adult, she divides her time between the sexy law men, mythical creatures, bad-ass bikers, and kick-ass heroines that live inside her head and her Netflix addiction. JC is a San Francisco Bay Area native, but has also called both Texas and Louisiana home. These days she rocks her flip flops year-round in Northern California and can't imagine a climate more beautiful. Her dream is to own her own Harley and she feels compelled to tell you that she is Team Peeta all the way.
*I was provided a free ecopy of this book in exchange of an honest review. This did not in any way, however, influence the content of this review.*