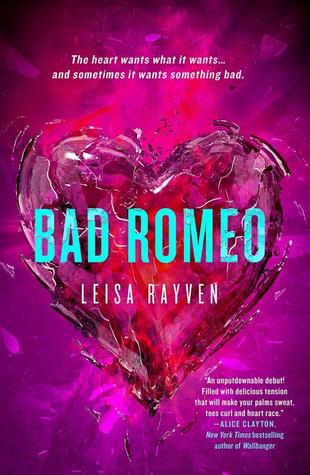 Bad Romeo by Leisa Rayven
(Starcrossed #1)
Genres: New Adult, Romance, Contemporary
Date of Publishing: 28th October, 2014
Publisher: St. Martin's Griffin
My Rating: ★★★
When Cassie Taylor met Ethan Holt at acting school, sparks flew. She was the good girl actress. He was the bad boy about campus. But one fated casting choice for Romeo and Juliet changed it all. Like the characters they were playing, Cassie and Ethan's romance seemed destined. Until he broke her heart and betrayed her trust. Now the A-list heartthrob is back in her life and turning her world around. One touch at a time.
Cast as romantic leads once again, they're forced to confront raw memories of the heartbreaking lows and pulse-pounding highs of their secret college affair. But they'll also discover that people who rub each other the wrong way often make the best sparks.
Review
"Sometimes liking someone has nothing to do with what you want and everything to do with what you need."
You know how sometimes you're attracted to a book? You can't call it love, hell, you can't even call it lust yet, but you're drawn to the idea of that book? And then you start reading that book and stuff just starts going downhill from there. Your heart is broken with how much you want to hate the book, but you also curse the heavens that the book ended at a cliffie and you want the next book NOW.
That is exactly what happened to me with Bad Romeo.
I'm not going to lie—I had serious issues with this book, which I'll get to in a while. But at the risk of being called a hypocrite, I'm also going to make a few things clear: Things that I wouldn't have tolerated, let alone liked, in any other book, were some of the things that kept me reading this book. Weird? Yes. But it's what happened.
Now that that's out there, I'm going to go ahead and say what I really feel about Bad Romeo.
When Cassie Taylor first meets Ethan Holt, he pretty much belittles her, by outright giving her a look of disgust and kind of generally being a douche bag. She takes it personally, though, and (considering that he's really fucking hot) she tries her level best for most of the school year to get into his pants. KINDA WEIRD COZ SHE'S A VIRGIN. Something happens though, something really bad, and they go their separate ways.
Six years—and the first chapter—later, it's pretty clear that Cassie is in no way planning to "reconcile" with major asshole Ethan. He's broken her heart once and she's learnt her lesson. Smart girl, that Cassie. But the catch here is this: What the heart wants, it wants.
And I agree with this. How many of us have fought hard against our hearts and actually won? We either settle or lose. Pathetically.
And Bad Romeo is all about Cassie rather uselessly fighting against her heart and actually attempting to win. The book shifts between what happened six years earlier in acting school and their present day reunion. And I, for one, love these little swings. They bring so much more to the book than only a single timeframe would and with Bad Romeo, the shift worked like a charm. Exactly the way I hoped it would.
But this also kind of ruined my life a little.
Because while I absolutely LOATHED old Cassie and old Ethan, I was starting to like new Cassie and new Ethan.
Which brings me to exactly why I hated the characters absolutely and completely before I came to respect them.
Cassie Taylor, to me, was a complete waste of virtual book space. She's not in love with Ethan, oh no, she's in love with the idea of being in love with Ethan. He's a loner and damaged and shit, so why the hell not, right? Also, she's obsessed with his dick. A little bit is funny. A little bit more is annoying. But her fixation on Ethan's man parts made me want to kill someone. Slowly.
"I bet he has a very nice penis. I bet it's glorious, like his stupid perfect face, and gorgeous eyes, and muscled body. I bet if he entered his penis in a competition, it would win "Best in Show" and he could walk around with a giant blue ribbon stuck to his crotch."
One other thing:
Note to Cassie: Assaulting a man, when you're drunk/sober and aware, is wrong. You wouldn't like it done to you, and it's just as wrong as a man doing it to a woman.
I'm done with this girl, for now.
Ethan Holt is a typical "college boy." He's out for some pussy and he has some that is willing. Not once did I get the feeling that he felt anything for Cassie except lust. NOT ONE TIME. He pulls Cassie in, then pushes her away, then insults her and then (grudgingly) invites her over to his place for Thanksgiving. Bipolar, much? And any love that he felt for Cassie? I, honestly, refuse to believe that it happened in acting school. You can blame him being damaged and shit, but whatever. I'm not buying that crap.
But Ethan 2.0 and Cassie 2.0? Them, I loved. Cassie was sensible and less obsessed with Ethan's body. Ethan was a man in love and ready to own up to the shit he put his girl through.
Simple? Not for me, no.
As a believer of romance and a closet angst lover, I hope that in Broken Juliet (which is book 2), Cassie makes Ethan work for it. But, in turn, I also hope that Cassie realizes that her expectations of flowers and hearts from a boy who was out to get laid were both stupid and unrealistic. I hope she realizes that there is more to a relationship than being offended when your "non-boyfriend" chooses not to sleep with you. As a third party viewer to their relationship, I really do believe with all my heart that had they gotten together in school, they'd be toxic for each other.
But the thing that kept me going throughout this book?
Leisa frikkin' Rayven. That woman could copy down the Communist Manifesto for me and I'd still look for her improvisation. She could write me her grocery-list and I'd look for her unique style in it. Basically what I'm saying is that I'll read anything she writes. (Including and especially Broken Juliet.)
Leisa Rayven? Here's hoping that you take this review/rant/angry tirade in the best way possible. Your style of writing has my HEART and I do believe that my words will do no justice to it. None at all.
Writing has always been a passion for Leisa, and even though she originally intended to be an actress, it wasn't long into her time at drama school that she began writing plays.
Those plays were bad. Very bad. Well, her friends thought they were good, but that's because they were always cast in them and any opportunity to be on stage was met with an obnoxious amount of enthusiasm.
Since then, she's honed her craft, and several of her plays have been produced and toured throughout Australia.
These days, playwriting has given way to fiction writing, and Leisa's debut novel, BAD ROMEO, will be available in a worldwide release through Macmillan Publishing in December 2014.
Leisa lives in Australia with her husband, two little boys, three cats, and a kangaroo named Howard.
(Howard may or may not be her imaginary marsupial friend. Everyone should have one.)
*I was provided a free eARC of this book in exchange of an honest review. This did not in any way, however, influence the content of this review.*