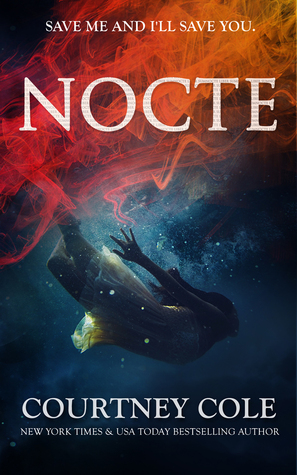 Nocte by Courtney Cole
(The Nocte Trilogy #1)
Genres: New Adult, Romance, Contemporary, Suspense
Date of Publishing: 3rd November, 2014
Publisher: Lakehouse Press, Inc
My Rating: ★★★★
My name is Calla Price. I'm eighteen years old, and I'm one half of a whole. My other half– my twin brother, my Finn– is crazy. I love him. More than life, more than anything. And even though I'm terrified he'll suck me down with him, no one can save him but me. I'm doing all I can to stay afloat in a sea of insanity, but I'm drowning more and more each day. So I reach out for a lifeline. Dare DuBray. He's my savior and my anti-Christ. His arms are where I feel safe, where I'm afraid, where I belong, where I'm lost. He will heal me, break me, love me and hate me. He has the power to destroy me. Maybe that's ok. Because I can't seem to save Finn and love Dare without everyone getting hurt. Why? Because of a secret. A secret I'm so busy trying to figure out, that I never see it coming. You won't either.
Review
You think you know crazy? You don't.
You think you know sibling love? You don't.
You think you know obsession? You don't.
I would plunge to the bottom of the ocean for you. I'd comb it for shells and make you a necklace and then hang myself with it. Because if you aren't here, I don't want to be either.
 I've always prided myself on scoffing at YA books with a mysterious element. Because there usually isn't any. YA is my favorite genre but even I can't deny that most of the times, YA novels seem to reveal the secret of the book themselves pretty early on. It's a let down for Mystery lovers like myself, but that's the way it simply seems to be.
But Nocte? Nocte was like a slap on my face. It kept me breathless and panicky and hooked and desperate—just like Miss Cole intended, I'm sure. And reading it was a revelation.
Nocte is set in a small, normal town with (mostly) normal people. There isn't anything paranormal, as such, and everything about the book and in the book and around the book happens in the real world.
The way the story starts itself is creepy. And alluring and weird. It's the starting point for all the shit that goes down in the book. And from then begins the story of Calla and Finn. Twin siblings who can't—won't—let go of each other. And Finn believes only Calla can save him.
Also, Dare DuBray. I think Dare was my favorite character in the book. Not only because he's British and hot (although that's a huge part of it), he's also mysterious and you think you know him, but you don't know fuck about him. He's one of those characters that keep you guessing and second-guessing about throughout the book.
Call them dark contemporaries or just plain crazy, but books like these exist. They take your breath away and leave you gasping for air, as if you're drowning and the only thing keeping you afloat is wanting to know what happens next. And once you know what happens next, the cycle starts all over again because you can't believe your eyes and you have to know what happens now.
My only advice? Don't research this book. Go read the synopsis, buy the book and get reading. Also, make sure you have enough time to read because I assure you, you're not going to want to finish this book in anything but one sitting. I feel so bad writing this review because I have a million quotes that I'd highlighted while reading this book but they aren't going to make any sense to you and also because I'm afraid you'll figure out something you're not supposed to.
Courtney Cole is a very clear example of an author with a twisted mind. And the only way she could have made this book work is with her twisted mind. Her writing here is phenomenal and that's plays a huge part in the entire gloom of the book. She's created a story that seeps into your bones with its fucked up characters and its depressed theme. Kudos to you, Miss Cole. Do you know that your mind would be a really creepy place to be in?
Courtney Cole is a New York Times and USA Today bestselling novelist who would eat mythology for breakfast if she could.
She has a degree in Business, but has since discovered that corporate America is not nearly as fun to live in as fictional worlds.
Courtney was born and raised in rural Kansas, but has since migrated south. She now lives in Florida and writes beneath palm trees.