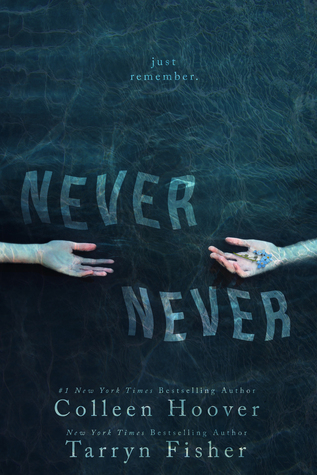 Never Never by Colleen Hoover & Tarryn Fisher
(Never Never #1)
Genres: Young Adult, Romance, Contemporary
Date of Publishing: 10th January, 2015
My Rating: ★★★★
Best friends since they could walk. In love since the age of fourteen. Complete strangers since this morning.
He'll do anything to remember. She'll do anything to forget.
Review
Reading Never Never is like the rush you'd experience if you were, say, standing at the edge of a cliff. You realize you shouldn't jump, hell, you know you'd die if you did, but you have little tingles in your feet and an errant thought. How would it feel?
Never Never is exactly that feeling. The entire process of reading this book can be described in a series of gifs (and many reviewers have done that successfully! Go check this one) but it's so much more. Not only is it the story of two teens who randomly forget everything, it also marks the beginning of an unlikely partnership that develops among them to discover not only who they were but also who they are. The book felt almost like what we call a Coming-Of-Age novel. There's this entire issue of finding out who you were and trying to reconcile that person to the person you are now.
Even if you're not completely sure who you are right now.
Colleen Hoover was perfectly right when she said that Never Never can't really be classified into a specific genre. In a lot of ways it's a Mystery, but I can also see how people may refer to it as a Paranormal novel. Time will tell, I suppose.
Speaking of partnerships, I'd personally like to ask Colleen Hoover and Tarryn Fisher why exactly they haven't done a collaboration like this before. I mean, WTF man. Write some more together. Even if you put in stupid cliffhangers that leave us readers in pathetic fucking book slumps.
So I hope you two authors Never Stop writing this series until ALL my questions are answered. And I hope that you Never Forget that people like me are anxiously waiting for the next book and so maybe you'll surprise release it tomorrow. #DidYouSeeWhatIDidThere
I love to write and I love to give away things that I write, so follow me on my Facebook author page at www.facebook.com/authorcolleenhoover
Twitter and Instagram: @colleenhoover
I host a book-a-day giveaway on my Facebook, Instagram, and Twitter pages. I give something away every single day, so don't miss out!
I am a real life villain, truly. I drink sick amounts of Starbucks. Most of the time my hair smells like coffee. I was born in South Africa, and lived there for most of my childhood. I moved to Seattle just for the rain. Rome is my favorite place in the world so far, Paris comes in at a close second. I read and write more than I sleep. When I was eleven, I wrote an entire novel about runaway orphans, using only purple ink. I am addicted to Florence and the Machine and will travel to see concerts. I love scary movies and giraffes. I spend way too much time on Facebook. Meet you there?…