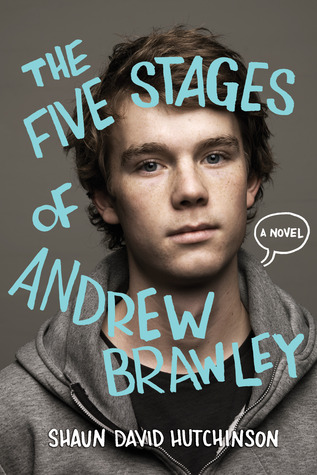 The Five Stages of Andrew Brawley by Shaun David Hutchinson
Genres: Young Adult, Romance, Contemporary
Date of Publishing: 20th January, 2015
Publisher: Simon Pulse
My Rating: ★★★★
Andrew Brawley was supposed to die that night. His parents did, and so did his sister, but he survived.
Now he lives in the hospital. He serves food in the cafeteria, he hangs out with the nurses, and he sleeps in a forgotten supply closet. Drew blends in to near invisibility, hiding from his past, his guilt, and those who are trying to find him.
Then one night Rusty is wheeled into the ER, burned on half his body by hateful classmates. His agony calls out to Drew like a beacon, pulling them both together through all their pain and grief. In Rusty, Drew sees hope, happiness, and a future for both of them. A future outside the hospital, and away from their pasts.
But Drew knows that life is never that simple. Death roams the hospital, searching for Drew, and now Rusty. Drew lost his family, but he refuses to lose Rusty, too, so he's determined to make things right. He's determined to bargain, and to settle his debts once and for all.
But Death is not easily placated, and Drew's life will have to get worse before there is any chance for things to get better.
A partly graphic novel.
Review
The Five Stages of Andrew Brawley was my first read of 2015 and I couldn't have chosen any better.
The book is about Andrew who refuses to leave the hospital after his parents and sister die in an accident. He believes he escaped Death once but now she's on the prowl for him, waiting to take him away. While he stays hidden there, he makes friends with the hospital staff and the patients and all of this came together to make a book that is just absolute brilliance.
I feel like this book was custom made for me because it literally had everything I wanted to see in a YA novel. It had a character learning to move over immense trauma, it had real issues that we need to talk about more and this book had heart, dammit.
What it also had were comics, which is something that I've been slowly growing fond of and this book had a comic book inside of it. The illustrations were creepy and gross and perfection and I think Christine Larsen has done an amazing job out of it.
Andrew's character was so well written. I could actually imagine a person who has lost their entire family kind of breaking and snapping the way Andrew did. And for the most part, he held himself together really well. He had an excellent relationship with two kids from the Pediatric section of the hospital. While battling his own problems (and he had many), he helped them find peace and I think, in my books, this made Andrew one of the most brave characters I've ever read.
The book begins with some paramedics wheeling in Rusty Mchale, a burn victim, and Rusty is screaming and in so much pain and that's the moment Andrew decides that he'd protect Rusty from Death. Thereafter, he visits Rusty, reads to him and falls in love with him. The entire process is bitter sweet with his own pain and filled with his regrets and guilt over his parents' death.
He also comes closer to finding out who exactly set Rusty aflame.
Albeit not completely about discovering your sexuality (at least for Andrew), there is a large part of the book that deals with acceptance of it. And that was completely new for me. And it's something that, by the end of the novel, I've really come to appreciate.
The side characters in this book are all amazingly well crafted. Each one has their own personality, their own flaws, hell, they have lives of their own and if the author ever decided to make this a series and give me different books on ever character's life? I'd read them all. You hear me, Mr Author? I'd read the shit out of them all.
I loved Shaun Hutchinson's writing. It flowed through the pages and into me in a way that kept me hooked and reading desperately and trying to find the meaning of it all. Of course, the "mystery" part of this book was so, so good and I was very close to clawing my eyeballs out…but the big reveal was completely worth it. COMPLETELY. WORTH. IT.
I think the author himself has put it perfectly: "…it's not about darkness. It's about finding your way out of the dark." Read this book, people. The subject matter is so delicate but the writing is going to win you over and the characters have such magnetic personalities that they're going to stay with you for a long, long while.
Shaun is a major geek and all about nerdy shenanigans. He is the author of The Deathday Letter, fml, and the forthcoming The Five Stages of Andrew Brawley. He can be reached at shaun@shaundavidhutchinson.com. He currently lives in South Florida with his partner and dog and watches way too much Doctor Who.
*I was provided a free eARC of this book in exchange of an honest review. This did not in any way, however, influence the content of this review.*