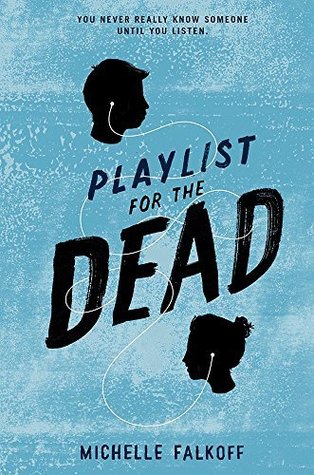 Playlist For The Dead by Michelle Falkoff
Genres: Young Adult, Romance, Contemporary, Mystery
Date of Publishing: 27th January, 2015
Publisher: HarperTeen
My Rating:  ★★★
A teenage boy tries to understand his best friend's suicide by listening to the playlist of songs he left behind in this smart, voice-driven debut novel.
Here's what Sam knows: There was a party. There was a fight. The next morning, his best friend, Hayden, was dead. And all he left Sam was a playlist of songs, and a suicide note: For Sam—listen and you'll understand.
As he listens to song after song, Sam tries to face up to what happened the night Hayden killed himself. But it's only by taking out his earbuds and opening his eyes to the people around him that he will finally be able to piece together his best friend's story. And maybe have a chance to change his own.
Part mystery, part love story, and part coming-of-age tale in the vein of Stephen Chbosky's The Perks of Being a Wallflower and Tim Tharp's The Spectacular Now, Playlist for the Dead is an honest and gut-wrenching first novel about loss, rage, what it feels like to outgrow a friendship that's always defined you—and the struggle to redefine yourself. But above all, it's about finding hope when hope seems like the hardest thing to find.
Review
Along the lines of Gone Too Far and Thirteen Reasons Why, comes another book about death, self-discovery and of course, a shit ton of mystery. And just like these others, Playlist of The Dead is a very, very memorable book. Not only because of its unique concept, but because of a certain Sam Goldsmith.
Sam is the one who finds his best friend Hayden's dead body and a playlist. And with it, a note: For Sam. Listen and you'll understand… And there, right then, begins Sam's journey to try to understand.
But that's not the only thing that Sam does. Throughout the year following Hayden's suicide, not only does Sam emerge from his geeky shell, he also learns that things (and people) are not always as they seem. Hayden may have been his best friend but that didn't mean they knew everything about each other. And he learned that no matter how patient you are with someone or something, there's always a breaking point where you just snap.
As far as MCs go, Sam was a character I could completely sympathize with. His anger and pain and longing for his best friend were all clearly laid out for the readers to see. And successfully portraying the vulnerability of a teenage boy dealing with a sorrow of this magnitude? That's where Michelle Falkoff won, you guys. That's where she completely won me over.
The romance angle in the book is the only thing that put me off the book. The girl? She was a big, fat NOPE for me all throughout the book. And once things with her and Sam started to settle down, and he made new friends and discovered old truths was the exact time I figured out the end of the novel. Like I said, bummer. But whatever. No book is perfect.
When I just started reading the book, I remember mentioning in my Goodreads status that this book was not what I'd expected it to be. And that seemed to be a common complaint. Many people expected the whole book to revolve around Hayden's playlist (and a large part of it does) but in hindsight, I think I prefer the book the way it was. The music was definitely an integral part of the book but I think Miss Falkoff managed to not take the emphasis away from the book completely.
The writing, like I mentioned, was a complete winner. Again, the ending of the book disappointed me greatly because a) I knew the whats and the whos long before the book ended and b) I really think the whos of the book got off really easy. That is the only reason I've pulled 2 stars from the book.
I've always said that even a book without any musical element to it can make a greater effect on a reader than a book filled with lyrics, and I stand by that statement still. That being said, I am currently underway making my own playlist for the book and I'm absolutely enjoying doing it 🙂
All in all, a total winner on the writing and character front, a tad bit predictable but eh. Maybe it's just me?
 Michelle Falkoff's fiction and reviews have been published in ZYZZYVA, DoubleTake, and the Harvard Review, among other places. She is a graduate of the Iowa Writers' Workshop and currently serves as Director of Communication and Legal Reasoning at Northwestern University School of Law. This is her first novel.
*I was provided a free eARC of this book in exchange of an honest review. This did not in any way, however, influence the content of this review.*