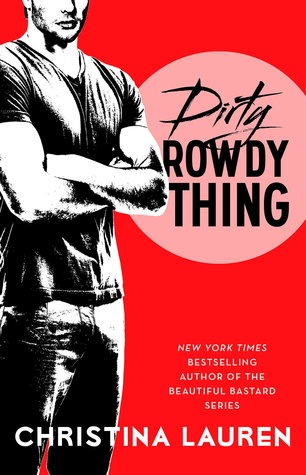 Dirty Rowdy Thing by Christina Lauren
(Wild Seasons #2)
Genres: Adult, Romance, Contemporary
Date of Publishing: 4th November, 2014
Publisher: Gallery Books
My Rating: ★★★
From the New York Times bestselling author of Beautiful Bastard, Beautiful Stranger, and Beautiful Player, Book Two of the brand-new Wild Seasons series that started with Sweet Filthy Boy—a story of friends, love, and lust.
Despite their rowdy hookups, Harlow and Finn don't even like each other…which would explain why their marriage lasted only twelve hours. He needs to be in charge and takes whatever he wants. She lives by the Want-something-done? Do-it-yourself mantra. Maybe she's too similar to the rugged fisherman—or just what he needs.
Review
God, this book!
Dirty Rowdy Thing is for everyone who feels like they lack feels in their lives. Sure, there's great sex (I can't wait to talk about that!) but feels? In plenty, people. In. Plenty.
After their snap wedding and snappier annulment, Harlow and Finn meet only once—when she shows up at his house in Canada wearing only a trench coat. Wild sex? Check. Real chemistry? Check. Feelings? Uh, no.
And then she leaves.
But when Finn comes to San Diego with Oliver and intends on "staying for a few weeks," Harlow can't contain her unsettling need for the gorgeous, rugged fisherman and with the situation she has at home, Finn's arms seem like the best distraction.
Thanks to both of their hardheaded and determined personalities, the best part of the book was their wit. They bickered and bantered over everything; except when they were having sex. And once that was done, they went back to the teasing.
I absolutely loved Harlow. She's loyal, smart and so self-assured. She knows what she wants and throughout the book, she's been doing what is right for her family. I love that about her. Rarely do we see such family oriented girls in NA fiction and Harlow is the perfect example of this. She has a lot of personal issues going on but not once did she snap or lose her cool at her friends. For her, Finn is a welcome distraction and she tries her best to keep it that way. I could literally feel her struggle while she tried not to develop any feelings towards him.
The chemistry between Harlow and Finn is just amazing. They fit with each other and they're so right for each other. But of course, life always gets in the way, and Finn is plagued with his own worries and life just doesn't seem to be giving these two a break.
So. The sex. I think I can say this now: Dirty Rowdy Thing has the best sex you'll ever read. And I mean this. Finn is so intense and the way he vacillates between tender and unforgiving in a matter of seconds is going to melt your panties. And Harlow? God. She is so addicted to Finn that it shows. She feels his every touch, his every word deep inside of her. And the thing is, she doesn't want to. She has things to worry about, things to do with her life and so the last thing she has time for is Finn but her helplessness, coupled with this chemistry is her ultimate downfall.
And downfalls like these are ones that people wait their entire lives for.
My only complaint? The last part of the book. The part where Finn royally screws Harlow over and she forgives him. Just like that. Sex is great but hey. It doesn't solve stuff. You can't just let it go without a proper explanation, yeah? I dunno. That bit was a bit of a bummer. Oh well.
We also get to see the entire star cast of Sweet Filthy Boy (yay Ansel!) and I loved how everyone seems to be maturing and taking steps forward in their lives. Ansel and Mia were so cute (OMFG ❤ Ansel) and Oliver and Lola are…getting there? Not really, but kind of. This series is just so frikking addictive! There's always humor and attraction and eventually lurve but I love the push and pull and the lust (mostly the lust) and the power struggle that seemed to be exclusive to Harlow and Finn. Next up is Oliver and Lola's story in September. SEPTEMBER! Holy hell I shouldn't have mentioned this at all. Methinks the wait is too long 😦
Christina Lauren is the combined pen name of long-time writing partners/besties/soulmates/brain-twins Christina Hobbs and Lauren Billings. The coauthor duo writes both Young Adult and Adult Fiction, and together has produced seven New York Times bestselling novels. Their books have been translated into 22 languages. (Some of these books have kissing. Some of these books have A LOT of kissing.)
| Website | Goodreads | Christina's Twitter | Lauren's Twitter | Facebook |