My favorite alien ever, thy name is Daemon Black.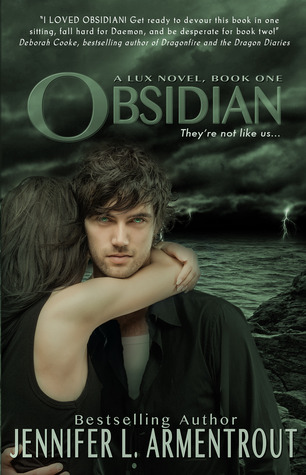 Obsidian by Jennifer L Armentrout
(Lux #1)
Genres: Young Adult, Romance, Sci Fi
Date of Publishing: 8th May, 2012
Publisher: Entangled Teen
My Rating: ★★★★
Starting over sucks.
When we moved to West Virginia right before my senior year, I'd pretty much resigned myself to thick accents, dodgy internet access, and a whole lot of boring… until I spotted my hot neighbor, with his looming height and eerie green eyes. Things were looking up.
And then he opened his mouth.
Daemon is infuriating. Arrogant. Stab-worthy. We do not get along. At all. But when a stranger attacks me and Daemon literally freezes time with a wave of his hand, well, something… unexpected happens.
The hot alien living next door marks me.
You heard me. Alien. Turns out Daemon and his sister have a galaxy of enemies wanting to steal their abilities, and Daemon's touch has me lit up like the Vegas Strip. The only way I'm getting out of this alive is by sticking close to Daemon until my alien mojo fades.
If I don't kill him first, that is.
Review
After reading this book, I said goodbye to two things in my life
Obsidian has been called "just another Twilight" way too many times. And I can see why. I can. There's all the elements of Twilight.
The new girl
The unwanted move from place A to B
The mysterious boy-next-door
The sweet sister
The big-ass secret
Some family members with a homicidal tendencies
I began Obsidian not expecting anything. But the thing is, with the release of Opposition, the last in the Lux series, it's kind of impossible not to be caught in the uproar. I spoke to a few bloggers who'd loved the Lux series and were sad to see it coming to an end. And so with nothing to lose, (except my ovaries, of course, but I didn't know that before starting the book) I decided to dig in.
As for me, though?
I really, really liked this book. It was nothing like Twilight in terms of the writing or the concept. But if the similarities are something you can't ignore, then think of Twilight as a bastardization of Obsidian. Or of Obsidian as a really, really good version of Twilight.
Katy Swartz is the perfect example of what a female lead should be like. I tend to be overly critical of girls in a book when they lack a vertebral column but Kat is just absolutely amazing with the right amount of zest and sass and balls. Yes, she's a bit immature and trivializes everything but I liked her that way. She's not a bratty teenager and she genuinely loves her mom and that made me really glad to see. Needless to say, I rooted for her throughout the book and she never disappointed!
Daemon Black, on the other hand, was a complete Pain In The Ass. He was rude and arrogant and moody but if I didn't love every minute of it. He was just one of those people you hate to love. And the way he was with Katy would have downright pissed me off, but Katy took it in stride and gave back just as much. I cannot wait to read more of Daemon and Katy and how and when they fall in love.
The other character that appears in the book, like a lot was Dee, Daemon's sister. She was chirpy and happy and so damned perky, it made me want to kill something. A bit too hyper, if you ask me and too cranky for my tastes but she's a part of the story and it wouldn't be the same without here so I'll deal.
Coming to the whole alien angle…? I'm honestly not sure how I feel about it, yet. It's new and different, and the aliens are here on Earth, so that saves me the trouble of having to understand the dynamics of another planet but I'm still going to hold back a bit, where it comes to really commenting on whether I liked the idea.
Of course, I have four more books to understand this shiz so it'll be okay. I hope.
Onwards!