I had Taylor Swift moments, peeps. For reals.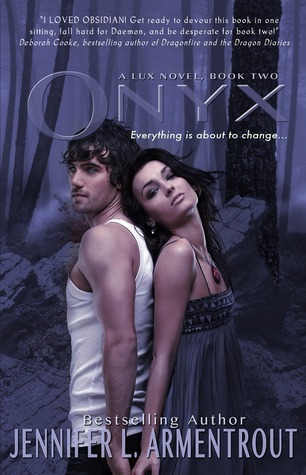 Onyx by Jennifer L Armentrout
(Lux #2)
Genres: Young Adult, Romance, Sci Fi
Date of Publishing: 14th August, 2012
Publisher: Entangled Teen
My Rating: ★★★
Being connected to Daemon Black sucks…
Thanks to his alien mojo, Daemon's determined to prove what he feels for me is more than a product of our bizarro connection. So I've sworn him off, even though he's running more hot than cold these days. But we've got bigger problems.
Something worse than the Arum has come to town…
The Department of Defense are here. If they ever find out what Daemon can do and that we're linked, I'm a goner. So is he. And there's this new boy in school who's got a secret of his own. He knows what's happened to me and he can help, but to do so, I have to lie to Daemon and stay away from him. Like that's possible. Against all common sense, I'm falling for Daemon. Hard.
But then everything changes…
I've seen someone who shouldn't be alive. And I have to tell Daemon, even though I know he's never going to stop searching until he gets the truth. What happened to his brother? Who betrayed him? And what does the DOD want from them—from me?
No one is who they seem. And not everyone will survive the lies…
Review
Onyx starts right where Obsidian left off, taking you right into the middle of conflict. Not literally in the middle of a conflict but whatever. Katy is turning into a half-alien-mutant-freak-thing and Daemon is claiming they have a "bond" because he healed her. If that isn't a Grade A conflict, I don't know what is.
His throat worked slowly. "Can I…?" There was a pause and my heart stuttered. "Can I just hold you? That's all…that's all I want."
Daemon is getting mushy, readers mine. And if you liked Daemon when he was a prick, imagine the swoons and heart fails and all those fucking feels when he's like that. And he wasn't like this for the entire book—that would have gotten old real quick. He was the perfect combination of feelings and quirkiness and wit and there's this quote I read that matched him perfectly:
"He's a contradiction: taut magic coiled to strike, gentleness at war with severity, a tongue as sharp as a whip's edge, yet skin so soft he could be swathed in clouds." (A. G. Howard – Splintered)
Katy was my one and only dislike in Onyx. I don't know where the fun-loving, cute and just genuinely pleasant book blogger went, but the Katy in Onyx is definitely not the Katy I read in Obsidian. Onyx Katy was cranky, bitchy (I liked this part, actually) and she made the worst decisions EVER. And come on, woman. Old is gold. New is…ew.
Blake Saunders was what was new in Onyx. To be honest, I didn't like him. Not a single part about him was something that was a) new or b) enjoyable. You know what he reminded of? Taylor Swift and I Knew You Were Trouble When You Walked In. That is all. Also, when Daemon did what he did at the end of the book, I was all like: WHAT THE FUCK DAEMON BLACK I TRUSTED YOU! But I'm okay now and I can breathe again since I had a whole shoving myself in a wall and licking my wounds session thing. Needless to say, Daemon's decision is going to bite him in the ass and I'm going to be all DIDN'T I FUCKING TELL YOU SO, DAEMON?
Onyx also explores the mysterious angle of Daemon and Dee's twin brother Dawson, and his girlfriend Bethany's unexplained disappearance. I loved the angle that these two (or their absence thereof) bought into the story. The last half of Onyx was all drama and action and bursts of light and fast pace running and it was awesome! Thoroughly enjoyed reading the action and OMG Katy ruined some of it for me, but okay. I'll deal.
I'm admitting this openly: I liked Obsidian better. I don't know why (since the vast majority seemed to have loved Onyx) but I was expecting more from this sequel and didn't quite find what I was looking for. Nonetheless, I started reading Opal as soon as I finished Onyx so it must not be as bad as I thought ;P