Helllooooo and welcome to Rhea's Neon Journal! DO YOU SEE IT? DO YOU SEE IT? GARRETT IS HEREEEEE! THAT is how excited I am! I can finally talk about Garrett and Olivia with everyone and you'll know what I'm talking about! So today, I have a review, teasers and a giveaway to win some really awesome stuff! Have fun (you know you will)!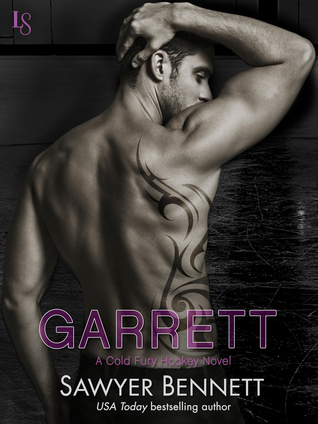 Garrett by Sawyer Bennett
(Cold Fury Hockey #2)
Genres: New Adult, Contemporary, Romance
Date of Publishing: 17th February, 2015
 My Rating: ★★★
New York Times bestselling author Sawyer Bennett hits the ice with the story of a playboy athlete whose winning ways lead him to a beautiful woman with a lot to lose.
Carolina Cold Fury star Garrett Samuelson never wants to miss out on a single minute of fun. Whether he's playing hockey, hanging out with friends, or walking the red carpet with a new date on his arm, he lives every day to the fullest. When he meets Olivia Case, he sees someone who's exactly his type—confident, sexy, smart . . . his next fling. But the more he pursues her, the more Garrett shares a side of himself that other women don't normally get to see.
Olivia has been keeping a secret. While Garrett lives for the next thrill, Olivia's not sure she'll live to see the next day. She's undergoing treatment for some serious medical issues, and she doesn't have time for a relationship with no guarantees—especially one with a hot-as-sin womanizer who won't take no for an answer. But as she gets to know the real Garrett, Olivia can't help falling for him . . . hard. To reveal the truth would mean risking everything—but you can't score without taking the tough shots.
Review
"Nothing…no woman…no piece of ass or fake boob thrust in my face will ever turn my eye away from you. Nothing and no one will ever come close to making me feel the way I do just when I'm holding your hand, or listening to you breathe at night. Nothing compares."
Aw, man. Isn't Garrett the sweetest thing ever?
This second installment in the Cold Fury Hockey series, follows the life and times of Garrett Samuelson, who was, if you remember, one of the chief reasons Alex and Sutton (from book one) got together. I've been waiting to read about his man whore-ly ways since the time Alex came out and might I say, Sawyer Bennett did not disappoint.
The moment Garrett sees Olivia Case at a Cold Fury party, he's a goner. She's really pretty with the hippy vibe she gives off and her gorgeous laughter and the fact that she's Sutton's cousin seems to make no difference to Garrett. He doesn't want a relationship and flowers and cuddles. He wants to fuck. He simply wants Olivia.
Luckily for him, Olivia seems to want him too.
Unluckily for him, though, Olivia only wants sex with him.
If you're going into this book with high expectation of fun and laughter and a generally light-hearted array of characters, then you're setting yourself up for disappointment. Garrett isn't like that. Life isn't all fun and games and unicorns and rainbows. It's pain and heartache and death.
And no one knows that better than Olivia Case. She went from happy, carefree and light to sick and heartbroken. But I have to hand it to her; she was strong. Despite having all odds stacked against her, not once did she feel sorry for herself and sit down to just cry. No one would have blamed her for it, but Olivia took everything in stride and I came to admire her greatly because of it.
I don't buy the whole love-at-first-sight thing. No exceptions. And thankfully, that didn't seem to happen with Garrett. But the whole manwhore to devoted boyfriend act? Yeah. I didn't buy that.
The moment Garrett and Olivia started to sleep together, he seemed to transform right in front of my eyes into this loving, doting, committed guy, when according to his history, the last time he'd had a stable relationship was back when he was in high school. So that kind of an alteration in him seemed both unrealistic and freakishly fast.
When it came to Garrett and Olivia together…I was a bit surprised. Not to mention, also a bit let down. I love love loved Garrett but it seemed like Olivia was the Mistress of Bad Decisions. And that sucked because I really wanted to like her, considering all the reasons I've laid out before. But she seemed too influenced by others and unable to make her own decisions. Add to that the stress of being so sick, and her entire life was really, really messy.
She wasn't a bad character, per se, just uncertain of everything.
Since Alex was Garrett's best friend and Sutton was Olivia's cousin, it was great to see this engaged couple stand behind and with the newer one through all their difficulties. As a team too, Cold Fury stood beside each other in times of trouble and it was easy to see that the camaraderie among these men was beyond just the ice. They were brothers in the true sense of the word and it was yummy to read about so many men, who pretended to be big, bad alphas, but turned out to be giant mushballs when it came to their women.
Sawyer Bennett never disappoints with her writing and that holds true for Garrett, too. Her kind of writing makes you want to continue reading until you reach the end of the book, hoping that the characters do what you need them to. Her writing is hilarious and heart stopping, especially with the twists and turns that she brought in Garrett.
And while Alex continues to remain my favorite of the two, Garrett had his own type of charm and charisma that grew on me. The book also introduced, albeit in not too many words, Zack, on whom the next book in the series will be based. And I honestly cannot wait for him!
Giveaway
Giveaway Rules:
Open to US/CANADA Only.
Contest open only until 25th Feb, 2015.
Please do not try to game the system. Cheaters never prosper.
Up for Grabs!
Loveswept mug and Romance at Random nail polish
Don't miss the first book in the COLD FURY HOCKEY SERIES…
| My Review |
| Goodreads | Amazon | B&N |  iBooks | Kobo |
New York Times bestselling author Sawyer Bennett is a snarky Southern woman and reformed trial lawyer who decided to finally start putting on paper all of the stories that were floating in her head. Her husband works for a Fortune 100 company that lets him fly all over the world while she stays at home with their daughter and three big, furry dogs who hog the bed. Bennett would like to report that she doesn't have many weaknesses but can be bribed with a nominal amount of milk chocolate.
Blog Tour Hosted by: