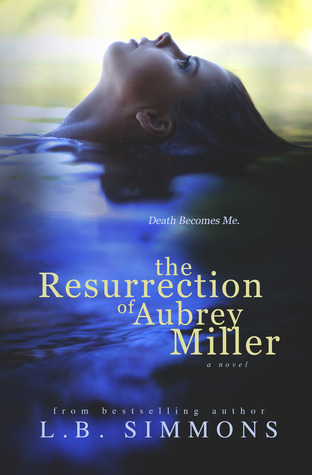 The Resurrection of Aubrey Miller by L.B. Simmons
Genres: Young Adult, Romance, Contemporary
Date of Publishing: 24th April, 2014
My Rating: ★★
*****#1 Best Seller in Amazon Inspirational Romance*****
Death.
For some, it's simply one of life's certainties, nothing more. For others, it's merely a fleeting thought, one often overshadowed by the reckless delusion that they have been blessed with the gift of immortality.
For Aubrey Miller, death is the definition of her very existence. Overcome with the guilt resulting from the loss of her beloved family, she alters her appearance from the once beautiful, blonde-haired, blue-eyed little girl to that of one shrouded in complete darkness, enveloping herself in her own unbreakable fortress of solitude as a form of protection for others.
As she enters her first year of college, her goal is simple: Earn a degree with the least amount of social interaction as possible. What she never anticipates is the formation of very unlikely relationships with two people who will change her life in ways she never believed possible: Quinn Matthews, the boisterous former pageant queen, and Kaeleb McMadden, a childhood friend from her past who never really let her go.
Over the years, as their connections intertwine and grow, a seemingly indestructible bond is formed between the three…
But when death painfully reemerges, Aubrey is lost once again, burying herself deeper than ever before inside the familiar fortification of her fears.
Will the refuge of friendship, the solidarity of life-long bonds, and the power of unconditional love be enough to do the impossible?
Will they be enough to finally bring about…
The Resurrection of Aubrey Miller?
****WARNING – Due to the graphic nature of some scenes, this book is intended for mature audiences only. Contains adult language and themes.****
Review
When I go into books that say, "#1 Best Seller in Amazon Inspirational Romance," I expect to see, you know, Inspirational Romance. Or any romance at all.
What I don't expect to see? Trash.
The Resurrection of Aubrey Miller had no chemistry, no mystery or foreboding and absolutely no substance.
In a tragic turn of events, Aubrey Miller lost her younger sister to what she belives was her carelessness. Her parents followed (due to their own selfish behaviour, might I add) and just like that, Aubrey is alone in the world.
Our heroine, Raven Miller (previously, Aubrey Miller) is an emo goth, who thinks that Death follows her wherever she goes. As in literally. This orphan girl, who's been living with her godmother Linda since she was eight—or something—believes that Death comes to all those who love her. Or whom she loves.
And, as the name suggests, the book follows her "resurrection," as she returns to being Aubrey from Raven.
Now, one of the first issues I had with this book was regarding Aubrey/Raven herself. This girl, who lived with her amazing, gem of a person Godmother for a decade of her life, didn't once tell her how much she loved her. She gave no outward appreciation, she never once initiated a hug, hell, she didn't even seem like a girl who would tell her a "thank you" for taking her in. And yet in a matter of days, Raven warms up to her pink-tastic roommate and a mystery guy from college?
Un-frikkin-believable. I mean, WHAT?
And of course, of course, there has to cliched drama. Because, without it, how in the hell will the book appeal to it's audiences? Right?
So obviously, there is anorexia, an attempt to suicide, bullying, breaking social conventions, yada yada.
I'm not saying stuff like this doesn't happen in real life. Of course it does. But to add it into a book just because? No. Hell no. Books that deal with social issues are supposed to make me feel for people and inspire me to do something. But TroAM made me want to throw my Kindle out the window and never, ever, pick it up ever again. Why? Because every social issue that ever existed has been tossed into this one book. And the fun part?
EVERYTHING GOES WRONG ALL IN ONE DAY!
I think the only character that I tolerated was Kaeleb, the unfortunate love interest. And he, too, was very, very mature for his age and didn't sound like a freshman in college at all. More like eighteen, running two hundred fifty.
I mean, what eighteen year old says this?
"I'll help you get lost any time, Sunshine. The only deal is you have to promise to come back. I never want to lose you again." 
facepalm
The bright side of the book? There are two:
The cover and the blurb. Both interesting. Both intriguing. Both gave me wayy to much hope for the book.
Oh well. Can't love 'em all, can we now?
L.B. Simmons is a graduate of Texas A&M University and holds a degree in Biomedical Science. She has been a practicing Chemist for the last 11 years. She lives with her husband and three daughters in Texas and writes every chance she gets.
I was provided a free eARC of this book in exchange of an honest review. This did not in any way, however, influence the content of this review.