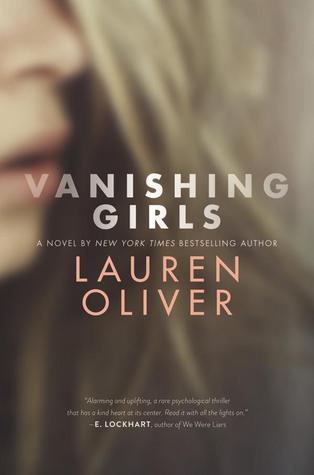 Vanishing Girls by Lauren Oliver
Genres: Young Adult, Mystery, Contemporary
Date of Publishing: 10th March, 2015
Publisher: HarperCollins
My Rating: ★★★★
New York Times bestselling author Lauren Oliver delivers a gripping story about two sisters inexorably altered by a terrible accident.
Dara and Nick used to be inseparable, but that was before the accident that left Dara's beautiful face scarred and the two sisters totally estranged. When Dara vanishes on her birthday, Nick thinks Dara is just playing around. But another girl, nine-year-old Madeline Snow, has vanished, too, and Nick becomes increasingly convinced that the two disappearances are linked. Now Nick has to find her sister, before it's too late.
In this edgy and compelling novel, Lauren Oliver creates a world of intrigue, loss, and suspicion as two sisters search to find themselves, and each other.
Review
Here's the deal about reading a book from which you don't expect too much: You don't expect too much from it. You don't care which way it's going to go because you haven't set your heart on loving it. You know it won't hurt you too much if it disappoints. And if it doesn't…well then, obviously, you've hit a jackpot.
And that is precisely how I went into Vanishing Girls. Without expectations.
I've read Delirium by Lauren Oliver and even though the series didn't really strike my interest, I decided to give Vanishing Girls a chance—mostly because of the mysterious blurb and the pretty cover.
And jackpot! Finally a Lauren Oliver book that I loved.
Nicole "Nick" Warren and her sister Dara Warren have always been joined at the hip. Although, their interests couldn't be more different, they're best friends before anything else. I loved their individual takes on each other and their shared experiences from their childhood—all thanks to the dual POV format of the book.
And then there's a bad, bad accident and life for the Warren family changes forever.
Dara was undeniably the character I favored most in this book. Through Nick's eyes, she's been shown as this sneaky, tenacious, don't-give-a-shit type of a girl. But when you switch to her POV, you discover that she's actually a very smart, sensitive girl who misses nothing.
Nick, on the other hand, is the older sister. The responsible one. The one who always ends up cleaning after Dara. Not only does she feel responsible for the accident, she also thinks of Dara a lot. Literally. Her younger sister is always on her mind. After the accident, both sisters don't even acknowledge each other, let alone talk to each other. And that seemed to bother Nick more than anything else.
Another character in the book I liked? Alice. She was a secondary character, but I think she was one of those personalities you could totally read a whole book about. She was brave and she had this kind of charm around her that I really enjoyed reading.
There's a certain kind of darkness that surrounds this book—and I'm not talking about the characters. What I'm talking about is the dark, edgy vibe to every thought that's been written down in the book. The way Nick behaves sometimes, the way Dara always seems to be; all of it seems to have an undercurrent of dark intentions. As if everyone in the book is either hiding something, or out to get something. I loved that aspect of this book.
I think the writing in this book is something that Lauren Oliver is known for. Her narrative, her attention to detail, every bit of the book that's been researched so well…it was all out there for the reader to see. This is precisely what I hadn't liked too much in Delirium, but loved to death in Vanishing Girls.
So. If I loved this book so very much, why did I knock off one star?
Easy-peasy. The ending of this book. In hindsight, I should have expected this. These types of endings seem to be in vogue right now and not everyone can pull it off—and Lauren Oliver did—but my point here is that it felt unnecessary. The plot could have moved along perfectly even without this (now) clichéd ending. It felt like an easy way out, is all.
I've seen people recommend this book to lovers of Gone Girl and We Were Liars. And I agree. But I'd also like to recommend this book to non-lovers of these books. Vanishing Girls is an entertaining book through and through and even if you're not too much into Mystery, you might enjoy the other aspects of this book.
I was provided a free eARC of this book in exchange of an honest review. This did not in any way, however, influence the content of this review.