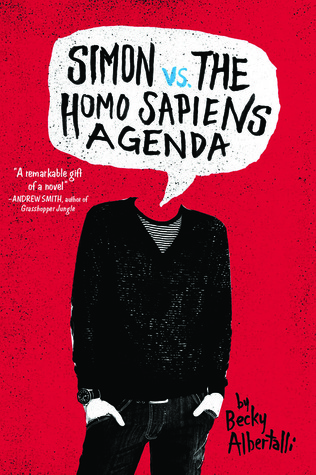 Simon Vs The Homo Sapiens Agenda by Becky Albertalli
Genres: Young Adult, Contemporary, Romance
Date of Publishing: April 7th, 2015
Publisher: Balzer+Bray
My Rating: ★★★★★
Sixteen-year-old and not-so-openly gay Simon Spier prefers to save his drama for the school musical. But when an email falls into the wrong hands, his secret is at risk of being thrust into the spotlight. Now Simon is actually being blackmailed: if he doesn't play wingman for class clown Martin, his sexual identity will become everyone's business. Worse, the privacy of Blue, the pen name of the boy he's been emailing, will be compromised.
With some messy dynamics emerging in his once tight-knit group of friends, and his email correspondence with Blue growing more flirtatious every day, Simon's junior year has suddenly gotten all kinds of complicated. Now, change-averse Simon has to find a way to step out of his comfort zone before he's pushed out—without alienating his friends, compromising himself, or fumbling a shot at happiness with the most confusing, adorable guy he's never met.
Review
Can I say, Simon Vs The Homo Sapiens Agenda is mostly definitely the cutest book I've read ALL YEAR. It's a bit early in the year to say this, but it's true. It's so fucking true.
As in the synopsis, the book opens with Simon being blackmailed by Martin, class clown and (apparently) blackmailer extraordinaire. Simon has to help Martin get to his dream girl, or else Martin's going to tell the entire school that Simon is gay. Worse still, he's going to expose Blue, the guy that Simon has been emailing.
With not many options in sight except to go with the flow, Simon agrees to "help" Martin, which kind of starts this chain of events that are cute and fluffy and guaranteed to melt your heart down to your toes.
Simon's voice was so real. He's in a part of his life where he's growing up to be who he is, while also trying to understand who he is. And the fact that he's gay and afraid to "come out," but that didn't mean he wasn't masculine. He was sensitive and kept to himself and he swore a lot, and dayum if that didn't make me love him that much more.
Then there was Blue. Sweet, sweet Blue. Such a gorgeous, amazing character that just fit. We don't know who Blue is—it's his penname—and Simon doesn't know who Blue is, but the way he wrote his emails…that touch of familiarity, that feeling of listening to an old friend—that won me over instantly.
And Blue and Simon's emails…gah! So many feels!
But that's not the only thing the story was about. One of the most important things that were explored were Simon's dynamics with his family members. There were inside jokes, and some leg pulling, and the inevitable frenemy relationship between siblings. But there was also apologizing and respect and love. So much love.
Coming back to Simon, I don't think it was the fact that he was gay that tormented him so much. It was the fact that he was gay and living in Georgia that kind of held him back from "coming out" to his parents and friends. He didn't know how either of them would react, even though his parents were awesome sauce (yes, awesome sauce) and he had a lot of amazing friends. And then there was the fact that he was a kind of sort of loner, who didn't really appreciate people getting into his business.
And the only person who understood Simon, maybe even felt like he was at a similar place was Blue. Blue, whom Simon wanted to kiss so bad.
Blue, who might just become your favorite character from the story J
Simon Vs The Homo Sapiens Agenda had it all: horny teens, scared teens, cute teens, music-loving teens, and Oreo-loving teens. But this book also had heart and to me, that was the best thing ever.