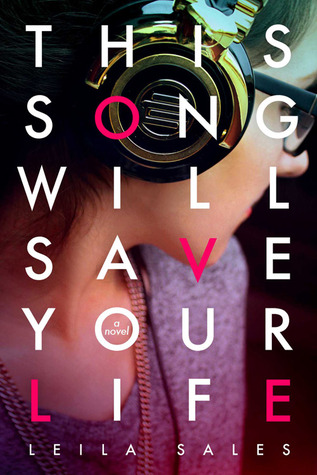 This Song Will Save Your Life by Leila Sales
Genres: Young Adult, Contemporary
Date of Publishing: 17th September, 2013
Publisher: Farrar, Straus and Giroux
My Rating: ★★★★★
Making friends has never been Elise Dembowski's strong suit. All throughout her life, she's been the butt of every joke and the outsider in every conversation. When a final attempt at popularity fails, Elise nearly gives up. Then she stumbles upon a warehouse party where she meets Vicky, a girl in a band who accepts her; Char, a cute, yet mysterious disc jockey; Pippa, a carefree spirit from England; and most importantly, a love for DJing.Told in a refreshingly genuine and laugh-out-loud funny voice, This Song Will Save Your Life is an exuberant novel about identity, friendship, and the power of music to bring people together.
RevieW 
You think it's so easy to change yourself.

You think it's so easy, but it's not.
With This Song Will Save Your Life, Leila Sales graciously led me to me my first 5 star read of the year. Like a lot of people, the thing that drew me to this book was its cover. The girl with headphones, obviously a teenager and the simple font that covers the entire cover page.
And I finished it in one day. ONE. DAY.
That's how much I loved this book, you guys.
Of all the coming-of-age books I've ever read, This Song Will Save Your Life is clearly my favorite. There is no other book that captures the angst, the uncertainty, the doubt and the gratification of teenage as well as TSWSYL did. And Elise Dembowski is one of the most authentic and relatable teen voices I've ever had the pleasure of reading.
The book begins with the quote I've started this review with. Elise then goes on to talk about how you can change everything about you; your haircut, your face, your clothes but people will still perceive you to be what they want you to be. And that right there is what I think is the most important message the book brings. The ability to realize and accept that you need to live for yourself, no matter what the world thinks about you.
Elise, a social misfit, tries hard. She tries to be likeable, and that includes changing everything about her. She changes her clothes, she smiles at people a lot more. And yet no matter how hard she tries, all her attempts at being popular and friendly fail.
And then she discovers Start.
Start is an underground dance club where Elise discovers her love for something she never even knew she could do – DJing. There she discovers who she really is and who she'd like to be.
I loved that throughout the book, Elise made mistakes too. She wasn't perfect—far from it—and the plot didn't fool me into thinking that she was. She accepted her mistakes, apologized and did all the things teenagers do. She also did some really stupid stuff that no one should ever ever do, but like I said, she accepted that she did wrong. And a person that feels guilty for their mistake is honestly easier to forgive, right?
Where it comes to Elise's parents, rest assured that they were involved parents. They were with her every step of the way and even though she wasn't a clingy type of teen, I liked seeing their interactions.
The other characters in the book—all of them—were just superbly done. They each had unique characters and voices and feelings. It was so easy to be caught up in a character that wasn't Elise and want to be swept away in their story! And I mean this about ALL the characters in TSWSYL.
And dear God, the music. Fortunately for me, I understood many, if not most, references in the book and trust you me, the songs referenced are nothing short of fantastic. There's also a list of more than 40 songs at the end of the book which is a concept that I loved! So unique and again, definite winner.
I was completely bowled over by Miss Leila's writing. She tried to make a point and by the end of the book, it came out clear and loud. And I'd credit this single-handedly to her genius writing. She captures a teenagers voice with utter ease and perfection and I will not—cannot—stop recommending this book enough!