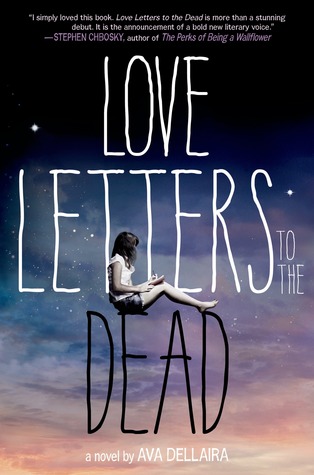 Love Letters To The Dead by Ava Dellaira
Genres: Young Adult, Contemporary, Romance
Date of Publishing: 1st April, 2014
Publisher: Farrar, Straus and Giroux
My Rating: ★★★
It begins as an assignment for English class: Write a letter to a dead person.
Laurel chooses Kurt Cobain because her sister, May, loved him. And he died young, just like May. Soon, Laurel has a notebook full of letters to the dead—to people like Janis Joplin, Heath Ledger, Amelia Earhart, and Amy Winehouse—though she never gives a single one of them to her teacher. She writes about starting high school, navigating the choppy waters of new friendships, learning to live with her splintering family, falling in love for the first time, and, most important, trying to grieve for May. But how do you mourn for someone you haven't forgiven?
It's not until Laurel has written the truth about what happened to herself that she can finally accept what happened to May. And only when Laurel has begun to see her sister as the person she was—lovely and amazing and deeply flawed—can she truly start to discover her own path.
In a voice that's as lyrical and as true as a favorite song, Ava Dellaira writes about one girl's journey through life's challenges with a haunting and often heartbreaking beauty.
Review
What starts as an English assignment, becomes an entire notebook of letters addressed to dead people, documenting a few months from Laurel's life, after her sister May's untimely death. The novel spans Laurel's 9th grade year as she recounts the events leading up to and after her sister's death.
After her sister's passing, Laurel makes a decision to leave her old school and move to a new school so that she doesn't have to deal with the people who knew both of them. So the entire novel revolves around how she writes letters to these famous celebrities, telling them about the new people that she's meeting and how meeting them is changing her life or about how they're helping her cope with her grief. And in some cases, not helping her cope with her grief.
The book deals with a lot of important issues like drugs, alcohol, coming out as a homosexual, dealing with death, depression and a lot of other varied subjects. This is something I really liked about the book because it's important to talk about this stuff and I do believe that it could help people who are going through any of this or have gone through it. I also liked that a certain amount of closure was given to each subject that was dealt with. There weren't solutions to these problems but there was a hidden message that relayed hope. And that was good enough for me.
Laurel I liked…for the most part. She was too juvenile, too innocent, and too passive for a girl her age. She was also riddled with insecurities and while that's normal, I agree, it also felt like it was a bit forced. I had a feeling that Laurel was a suffer-in-silence kind of a girl. Throughout the book, she didn't tell any of new friends anything about her sister and she kept to herself until she was called to be involved.
The book also has a lot of focus on secondary characters, which is always appreciated. Miss Dellaira made me fall in love with Natalie, Hannah, Kristen and Tristan (who are Laurel's friends from school) and the shocking part? They each played a role in the way Laurel dealt with her pain and depression.
There's also Laurel's love interest Sky. I think Sky was my absolute favorite in this book. Considering the amount of shit he had to go through to put up with Laurel, and then having to be pushed to him limits and consciously deciding to not help Laurel…it was smart and realistic. He also had a lot of troubles of his own and there was definitely a learning curve to his character. Also, he's pretty cute. Just saying.
The issue I had with the book was the letter format…it was unnecessary. I think the author would have made the desired impact even without the epistolary format. In fact, I'm going as far to say that for me, the format of the book kind of awesome, but the content of each letter—especially the beginning—was a bit boring. Each deceased person that Laurel is referring to does not need to be told their own life story, is what I'm saying.
As far as epistolary novels go, LLTTD was really, really good. There was definite originality in the idea of the novel and I think Miss Dellaira managed to put exactly what was on her mind onto paper. So much so, that I could feel how she felt about all the people that the letters were addressed to. That being said, some of the things that Laurel said in these letters—or the way she said them—never let me forget that there was an adult behind the letters.
All in all, I liked the book enough to recommend it, but not really go in and re-read it. It would be too depressing and honestly. I'd just end up finding more faults and hating on it. For a first time reader, though, you're going to feel things while reading this book. A plethora of emotions and possible ugly tears in the last half of the book.
Favorite Quotes
"How could she just leave me here to live without her? I miss her so much. I love her. I want her to grow up and become who she was meant to be. I wanted her to grow up with me." 
In a letter to Kurt Cobain:
"Sometimes your music sounds like there's too much inside of you. Maybe you couldn't get it all out. Maybe that's why you died. Like you exploded from the inside."
"…I know that it can be hard to believe that someone loves you if you are afraid of being yourself, or if you are not exactly sure who are you."
"You fall asleep in the foothills, and the wolf comes down from the mountains. And you hope someone will wake you up. Or chase it off. Or shoot it dead. But when you realise that the wolf is inside you, that's when you know. You can't run from it. And no one who loves you can kill the wolf, because it's a part of you. They see your face on it. And they won't fire the shot."