Compulsion 
by Martina Boone
Series: The Heirs of Watson Island #1
Genres: Adult, Romance
Audiobook Release Date: 28th October 2014
Publisher: Simon Pulse/Tantor Audio
Length: 11 hrs and 29 mins 
Three plantations. Two wishes. One ancient curse.
All her life, Barrie Watson has been a virtual prisoner in the house where she lives with her shut-in mother. When her mother dies, Barrie promises to put some mileage on her stiletto heels. But she finds a new kind of prison at her
aunt's South Carolina plantation instead–a prison guarded by an ancient spirit who long ago cursed one of the three founding families of Watson Island and gave the others magical gifts that became compulsions.
Stuck with the ghosts of a generations-old feud and hunted by forces she cannot see, Barrie must find a way to break free of the family legacy. With the help of sun-kissed Eight Beaufort, who knows what Barrie wants before she knows
herself, the last Watson heir starts to unravel her family's twisted secrets. What she finds is dangerous: a love she never expected, a river that turns to fire at midnight, a gorgeous cousin who isn't what she seems, and very real enemies who want both Eight and Barrie dead.
---
Listen to an audiobook sample
*Praise For Compulsion*
"Skillfully blends rich magic and folklore with
adventure, sweeping romance, and hidden treasure . . . An impressive start to
the Heirs of Watson Island series." —Publishers Weekly
"Eight Beaufort is so swoon-worthy that it's
ridiculous. Move over Four, Eight is here to stay!"  —RT Book
Reviews, RT Editors Best Books of 2014

"Darkly romantic and steeped in Southern Gothic
charm, you'll be compelled to get lost in the Heirs of Watson Island
series." —JENNIFER L. ARMENTROUT, #1 New York Times bestselling
author

"A fresh twist on the Southern Gothic —
haunting, atmospheric, and absorbing." —CLAUDIA GRAY, New York
Timesbestselling author of A Thousand Pieces of You and
the Evernight and Spellcaster series 
"A stunningly magical debut with a delicious
slow burn to be savored. I want to live in this story world!" —WENDY
HIGGINS, USA Today and New York Times bestselling
author of the Sweet Evil trilogy

"Beautifully written, with vivid characters, a generations-old
feud, and romance that leaps off the page, this Southern ghost story left me
lingering over every word, and yet wanting to race to the compelling finish. Compulsion is
not to be missed." —MEGAN SHEPHERD, author of The Madman's
Daughter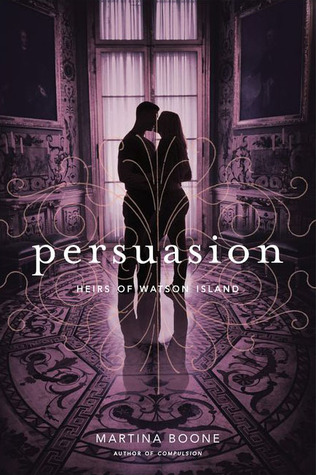 Persuasion by Martina Boone
Series: The Heirs of Watson Island #2
Publisher: Simon Pulse
Expected Date of Publishing: October 28th, 2015
Grieving the death of her godfather and haunted by her cousin Cassie's betrayal, Barrie returns from a trip to San Francisco to find the Watson plantation besieged by reporters and ghost-hunters. Some are hoping to see the ancient spirit who sets the river on fire each night, while others are chasing rumors of a stolen shipment of Civil War gold that may be hidden at Colesworth Place. Chaos descends as Cassie hires a team of archeologists to excavate beneath the mansion ruins. But more is buried there than treasure.
A mysterious, magical man appears at Watson's Landing, claiming the key to the Watson and Beaufort gifts and the Colesworth curse also lies beneath the mansion. With a mix of threats and promises, he engages Barrie and Cassie in a midnight visit, but the spell he conjurs has potentially deadly consequences.
While Barrie and dreamy Eight Beaufort struggle to make sense of the escalating danger and their growing feelings for each other, Barrie has to figure out not only whom to trust, but which gift is more reliable—Eight's or her own. With millions of dollars and the fate of the founding families at stake, she must choose between what she feels deep in her heart and what will keep her loved ones safe.
GIVEAWAY
Giveaway Rules:
Open until  May 31st, 2015 only.

Grand Prize is International. Four additional winners are U.S. only.

Please do not try to game the system. Cheaters never prosper.
Up for Grabs!
Compulsion Audio CD, Signed Compulsion Hardcover, Signed Persuasion ARC, Koss Wireless Headphones (International)
4 Additional Winners receive Compulsion Audio Cds (US Only)
Martina Boone was born in Prague and spoke several languages before learning English. She fell in love with words and never stopped delighting in them.
She's the founder of AdventuresInYAPublishing.com, a Writer's Digest 101 Best Websites for Writers site, andYASeriesInsiders.com, a Tumblr site devoted to news, giveaways, and insider secrets of much-loved and up-and-coming YA series.
From her home in Virginia, where she lives with her husband, children, and Auggie the wonder dog, she enjoys writing contemporary fantasy set in the kinds of magical places she'd love to visit. When she isn't writing, she's addicted to travel, horses, skiing, chocolate flavored tea, and anything with Nutella on it.
| Website | Blog | Tumblr | Facebook | Pinterest | Instagram | Twitter