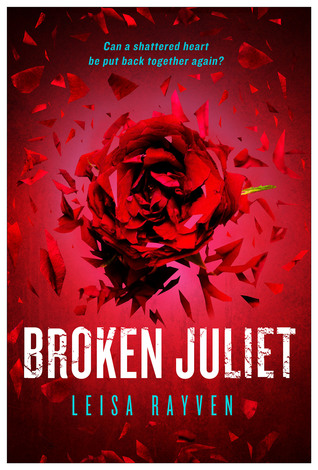 Broken Juliet by Leisa Rayven
Series: (Starcrossed #2)
Genres: New Adult, Romance, Contemporary
Date of Publishing: 28th April, 2015
Publisher: St. Martin's Griffin
My Rating: ★★★
How do you fix a love that's been broken beyond repair?For years, Cassie Taylor tried to forget about Ethan Holt. He was the one great love of her life, and when he failed to return her love, a part of her died forever. Or so she thought. Now she and Ethan are sharing a Broadway stage, and he's determined to win her back. Claiming to be a changed man, he's finally able to say all the things she needed to hear years ago, but can she believe him? What makes this time different from all his other broken promises?Ethan knows he can't change their tumultuous past, but if he's going to have any chance of being with the woman he loves, he'll need to convince Cassie that her future belongs with him.
 Review
ETHAN HOLT AND CASSANDRA TAYLOR YOU'VE PUT ME ON THE SPOT AGAIN.
I've ranted and ranted and ranted on Twitter about how difficult it was going to be to write this particular review…and I've finally reached a point where my thoughts about this book are choking up inside me and I have to purge them onto paper.
I'm nothing, if not melodramatic.
To begin with, I'm glad Leisa Rayven resolved the case of the cliffhanger (from Bad Romeo) immediately. I don't think I could have dealt with more waiting. Of course all of us readers knew exactly what was at the other side of that door knock, we just didn't know what Cassie's reaction to it would be. And I must say, Cassie did not disappoint. She behaved exactly the way I thought she would—which was amazing.
Now that I sit down to think about it, throughout the book, Cassie (that is, the Cassie of the present) was a smart, headstrong woman, who knew what she wanted. The same Cassie I loved in Bad Romeo. She made herself immune to Ethan's charm (barely) and allowed herself to give him the benefit of doubt and another chance (again, barely). I'd dare say Cassie was being more and more difficult towards Ethan, which, again, was something I wanted to see. I wanted to see Ethan sweat. And I'd wanted to see just how far these two went before they broke.
Ethan I knew from the beginning of the novel was going to be one persistent bastard. And he was! He kept on pushing her and pushing her some more and with Ethan, there wasn't dull moment in the book. I understood his Edward-esque tendencies of beating up himself, like, a lot, but I kind of understood him better in Broken Juliet. This guy genuinely thought he was bad for Cassie. He wasn't playing some tortured, bad-boy act to get into her pants; he really thought his influence over her would crush her, like it did his ex-girlfriend Olivia. And there is a solid explanation to his whereabouts for the three years they were apart—and holy hell, was I a crying mess when that bomb was dropped. I'd made up a certain impression about the bastard and he just went ahead and just completely wrecked that.
About the two of them together, I don't think much needs to be said. There are some people who can't work together, and Ethan and Cassie are the type who wouldn't be able to work apart. And while on a certain level I understood that Ethan had some major healing to do, I realised that Cassie needed help too.
Help that she got in Broken Juliet.
There's only so much I can say about the Cassie and Ethan of the present without talking about them while they were in acting school.
Ethan pretty much had a "now I love you, now I don't" approach towards Cassie. He was cruel, sometimes even deliberately, to push her away. And somehow, I get it. Like I said, this guy really thought he was poisonous to people and so obviously, he'd try to protect the woman he's come to love. The phrase "cruel to be kind" crossed my mind so many times but really, where was the kindness? Because I don't see it. He broken Cassie over and over, and that just didn't sit too well with me. He wouldn't give her a clean break—both of them making gooey eyes at each other even while they'd broken up—and he wouldn't hold on to her tight.
My thoughts about student Cassie stand. I felt the same way about her as I did in Bad Romeo. Meaning there was plenty eye-rolling, hair-pulling, face-scratching and bouts of violent anger on my side. I won't get into it again, simply because I still feel like it would be a repetition, but there's this: I still don't like the Cassie or the Ethan of the past. I really don't. BUT I can understand them, if that makes sense. They're idiots and I don't like them, but I get them.
Again, Leisa is fantastic. She made me love and hate these characters to a point where I had emotional whiplash and it was so fucking worth it. Her writing, as last time, was nothing less than stellar and I think she couldn't have done any more justice to these two and their love story.
And I cannot WAIT to see what else she has up her sleeve 🙂 Apart from her bicep, of course.
SERIES ORDER AND PURCHASE LINKS
Click on the cover to purchase from Amazon. 
 
I was provided a free eARC of this book in exchange of an honest review. This did not in any way, however, influence the content of this review.