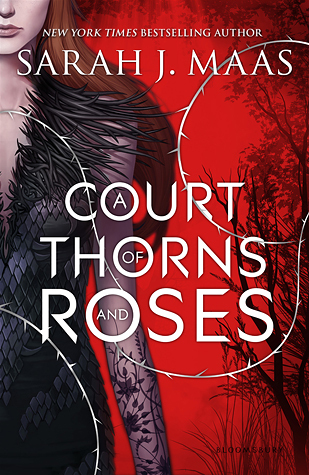 A Court Of Thorns And Roses by Sarah J. Maas
Series: A Court Of Thorns And Roses #1
Genres: Young Adult, Fantasy, Romance
Publisher: Bloomsbury Children's
Date of Publishing: May 5th, 2015
 My Rating: ★★★★★
A thrilling, seductive new series from New York Timesbestselling author Sarah J. Maas, blending Beauty and the Beast with faerie lore.When nineteen-year-old huntress Feyre kills a wolf in the woods, a beast-like creature arrives to demand retribution for it. Dragged to a treacherous magical land she only knows about from legends, Feyre discovers that her captor is not an animal, but Tamlin—one of the lethal, immortal faeries who once ruled their world.As she dwells on his estate, her feelings for Tamlin transform from icy hostility into a fiery passion that burns through every lie and warning she's been told about the beautiful, dangerous world of the Fae. But an ancient, wicked shadow grows over the faerie lands, and Feyre must find a way to stop it . . . or doom Tamlin—and his world—forever.
Review
I DON'T EVEN KNOW HOW TO START TALKING ABOUT THIS GORGEOUS BOOK.
For starters, I didn't even bother reading the synopsis of this book. It was just so damned hyped and everywhere I looked I could see people falling over themselves while talking about how much they fucking loved ACOTAR and so obviously, I wanted to read and judge for myself. AND IT LOOKS LIKE THIS BOOK HAS TAKEN OVER MY LIFE! A Court Of Thorns And Roses is a Beauty and the Beast retelling, which follows the story of mortal huntress Feyre and immortal faerie Tamlin, and their humongous misadventures as they try to navigate a normal life amongst the faes of the land. Except, all faes aren't good "people" and Tamlin is no ordinary fae.
The story begins with Feyre, a damn good huntress, hunting in the woods, when she comes across a wolf like creature. Except it can't be a wolf because it looks back at Feyre with such awareness in his eyes, and with that Feyre knows that the wolf is a fae. Going only on instinct, Feyre kills the wolf and goes back to her near-starving family. But when a beast appears at her front door, asking for the killer, Feyre knows for sure that she's doomed. The beast—Tamlin—demands that she live with him, across the Wall that divides the lands of the mortals and the faeries and stay with him there forever. When their relationship turns into a passion that glows hot red, more secrets are revealed and Feyre has to fight to save not only Tamlin, but a host of other characters. Including mankind.
Obviously, there's a lot more to the story than just Feyre and Tamlin's romance. More on that later, but what I'd like to focus on is Feyre herself. Feyre had a very unique way of capturing the audience's attention, and keeping it. She was the sole bread earner in her family, supporting a cripple father and two sisters–one narcissistic and one too delicate to do anything. Inspite of her tendency to want to do more and more and more for her family, she was both under appreciated and treated like crap. They weren't abusive, at least not physically. More like they didn't care about Feyre as long as she got them food to eat and enough money for clothes to keep them warm. Despite of this, Feyre was faithful and undemanding of her family right until the end. This garners full sympathy from the readers, as well as a feeling of kinship with the girl who has nothing but love for a family that is deserving of very little from her.
But that's not all about Feyre. She was the true definition of a badass—both in her heart and her mind. She was the kind of friend who would stick up for you no matter what. She wasn't perfect (which one of us is, really?) but she's kind and loyal and a genuinely good person. Of course I hated that the things that happened to her were heartbreaking, but I like to believe that the strongest ones are tested the most. And she was the strongest. She had more balls than Tamlin on many occasions, and she did everything she could to get in trouble with him—whether to piss him off remains to be seen. Sadly for her, Tamlin always came to her rescue and I adored him all the more for it!
Tamlin, our beast (who is actually a beauty), was just so…gah. Swoony seems like an understatement, in all honesty. This selfless, kind-hearted man remained an enigma to Feyre. A thousand leagues away from her, almost impossible for her to touch, or understand, or even know. He captured her like a beast, but gave her the treatment of a queen in his estate. He made sure she was well attended to, kept her safe, gave her his food and hospitality…but of course he had his own motivations, did he not? What these motivations were (if at all he had any, that is) is really what the book is all about.
Together, Tamlin and Feyre were everything you want to see. Everything and more. Tamlin and Feyre are the pioneers of a slow burn romance…and they're hardly together WHEN THEY'RE RIPPED APART BY THE EVIL BITCH QUEEN ASDFLKJGQWETRIPTU. When I think back to their romance and the way they were when they were together, their ability to set your panties on fire with how fucking hot they were for each other…it gives me a lot of hope because HOPEFULLY MANY SEXY TIMES IN THE REST OF THE SERIES HALLELUIJAH. But they're also similar in personalities, with gentle hearts and the qualities of a good leader in them both, which makes me very happy because they are ideal and perfect and delicious for each other in every damned way…but were they a bit too perfect for each other? MORE THOUGHTS ON MY SHIP PREFERENCES IN THE SPOILERS SECTION BELOW.
Inspite of all the higher forces working against them, a reader can only hope that Feyre and Tamlin overcome every challenge thrown at them, and come out the other side alive. And all the emotions you feel will be real and terrifying and they'll make your heart race like fuck, because Sarah J. Maas is just that good of an author. This is my very first Sarah J. Maas read and I was just blown away by this book! This has been a long, long time coming, especially since I was supposed to begin Throne of Glass soon and apparently, I will love that one too! But with ACOTAR, Sarah wins. She has created a world that gets deeper and more fascinating and more spectacular after every chapter in this book! The actions scenes, the love-making scenes, all the ships, the setting, faeries, all of it was fantastic and so, so imaginative! I'm thinking this is the best Beauty And The Beast retelling I've ever read and considering that I'm not usually one for retellings, ACOTAR wins for me in every way possible! 
SPOILERS
I've been wanting to gush about the Tamlin/Feyre angle ever since I started reading the book…and if you read everything I've written above, you'll notice that I did. However, while I stand by everything Tamlin & Feyre, I find myself shipping Rhysand/Feyre. Why? Allow me to explain.
Rhysand, a seemingly minor character, appeared first on the night Tamlin would choose a woman to mate with—The Great Rite. Later, however, he appears at Tamlin's estate, threatening to expose Feyre if Tamlin did not bow to him. And of course, Tamlin bowed down to Rhysand for the woman he loved. But Rhysand was a character I literally could not get out of my mind! Not only is he shrewd and smart beyond compare, he reminded me of Lord Peter Baelish (from GoT). After all the shit that goes down Under The Mountain, Feyre remind him of their deal; that she would accompany him to his Night Court, one week every month. Now, as far as I know, this deal is kind of permanent.
And why the Rhysand-Feyre ship? You just have to see how they are together. Not only is their chemistry real and sizzling with energy and happened during a crucial part of Feyre's life, it was filled with banter and so many laughs! Rhysand is a genuinely happy fellow, except for when he was whore-ing for Queen Aramanatha. And even then, he found solace in Feyre and her spitfire nature, and protected her against the Queen in every way he could. And now that Feyre is a part of the High Fae, I'm sure she'll give back to Rhysand just as she gets. Rhysand was well on his way to redemption when he was leaving and I'm firmly aboard this ship!
What happened at the end of the book while Rhysand was leaving? Something about him looking shocked as he looked at Feyre, shocked enough to stumble and almost fall. I genuinely have no theories (blame Game of Thrones and Outlander for finishing my quota of theories) but some people are speculating that the "mating" bond was formed. Was it? I don't know. Could be. Technically, Tamlin hasn't formed this bond with her because she wasn't present at the night of The Great Rite and Feyre hasn't formed a bond with anyone either. But again, for an entire book to be about Feylin and then to jump ships and declare that Rhysand and Feyre are a thing? That seems pretty unlikely too.
Any Rhysand Feyre shippers? Reach out to me, please!