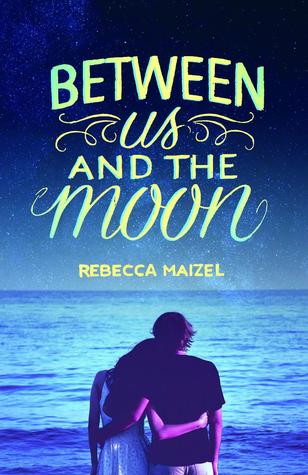 Between Us And The Moon by Rebecca Maizel
Genres: Young Adult, Contemporary, Romance
Publisher:  HarperTeen
Date of Publishing: June 30th, 2015
 My Rating: ★★★
A luminous young adult novel that evokes Judy Blume's Forever for a new generation.
Ever since Sarah was born, she's lived in the shadow of her beautiful older sister, Scarlett. But this summer on Cape Cod, she's determined to finally grow up. Then she meets gorgeous college boy Andrew. He sees her as the girl she wants to be. A girl who's older than she is. A girl like Scarlett.Before she knows what's happened, one little lie has transformed into something real. And by the end of August, she might have to choose between falling in love, and finding herself.
Review
If I were to pitch Between Us and The Moon is one sentence it would be something like this: A summer romance filled with lies and stars.
 Sarah "Bean" Levin, scientist and stargazer, is sick of being in the shadow of her older sister Scarlett. After she's dumped by her long time best friend turned boyfriend Tucker, she decides that she's going to start working on The Scarlett Experiment—an attempt to observe how exactly her sister has all the boys wrapped around her finger. Sarah changes her clothes, her attitude, her speech and finds herself Andrew, the sweetest boy in Cape Cod, and finds the romance she wants.
Except there's one important thing she changes—her age.
I didn't agree with Sarah's plan of lying to Andrew about her age. The constant lies and deception, and the absurd lengths she went to in order to keep the truth from coming out were off-putting and while I cheered for her and thought that she was one of the most real characters I've read all summer, I knew right away that she had a lot of growing up to do. She was enthusiastic about stars and the periodic table of elements and all things science, but I agreed that she had kind of set aside people and experiences and adventures and preferred to lock herself up all day to study or research. She was a follower, also, but we can't possibly expect every person to be a natural born leader. What was more important to me, was that Sarah learnt from her mistakes and became a better person from them. Sarah was kind and trusting and of course, her summer love with Andrew was what I loved so, so much because I want me one of those ❤
Andrew was a boy I really, really loved. He wasn't perfect, far from it, but he was not even the stereotypical boy that I have come to expect from YA. He was a nineteen year old boy, with the hot blood of nineteen year old boys because, um, obviously, but not once did he do anything to make Sarah (or the reader) feel uncomfortable. There was understanding and patience, traits I had not expected from a teenage boy, but I was pleasantly surprised to see that Andrew went above and beyond to make sure that everything went at Sarah's pace. Many a times, I felt like the connection between Sarah and her sister should have been obvious to Andrew, more so considering that Scarlett was there at Cape Cod too, but it was overlooked and I overlooked it because the message of the book was deeper and I couldn't stop reading Sarah!
The thing that pissed me off, however, more than the lies, more than anything was Sarah's relationship with her family. It was simply unnatural. It's quite difficult to put in words but I'm going to try. To put it crudely, neither of Sarah's parents gave a shit about her. They were ignorant and self-absorbed, neither paying attention to nor showing any interest in their daughters' lives. At one point, Sarah doesn't come home until way past her curfew and no one knows. Not even the next day! And then there was the part where Andrew stayed over at her house, in her room, without their knowledge, and they didn't have a clue. Her Aunt Nancy in Cape Cod was cruel and manipulative and the reason given to justify herself was unacceptable to me.
In spite of this, or maybe because of it, the growing up that Sarah had done was remarkable. She was brilliant at the beginning of the book, and at the end of it she shone.
Rebecca Maizel did an awesome job of taking me into Sarah's head and making me never want to get out! She was clever in her prose, and Sarah was, I assume, an excellent MC because I could just feel how the words flowed out into paper, making her story known. I didn't agree with Sarah's choices and her motivations, but I could understand them, and see where they came from. Even though the romance was what the book revolved around, I do believe that this book needs to be read because while we don't always make the right decisions, it is important to understand that we'll almost always learn something from them.
I was provided a free eARC of this book in exchange of an honest review. This did not in any way, however, influence the content of this review.