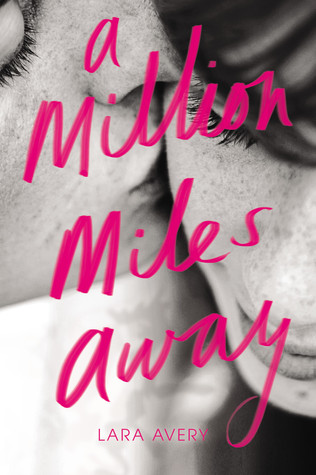 A Million Miles Away by Lara Avery
Genres: Young Adult, Romance, Contemporary
Publisher: Little, Brown Books for Young Readers / Poppy
Date of Publishing: July 7th, 2015
 My Rating: ★★
 When high school senior Kelsey's identical twin sister, Michelle, dies in a car crash, Kelsey is left without her other half. The only person who doesn't know about the tragedy is Michelle's boyfriend, Peter, recently deployed to Afghanistan. But when Kelsey finally connects with Peter online, she can't bear to tell him the truth. Active duty has taken its toll, and Peter, thinking that Kelsey is Michelle, says that seeing her is the one thing keeping him alive. Caught up in the moment, Kelsey has no choice: She lets Peter believe that she is her sister.
As Kelsey keeps up the act, she crosses the line from pretend to real. Soon, Kelsey can't deny that she's falling, hard, for the one boy she shouldn't want.
Review
I mean, I didn't hate the book. I completed reading it and I wasn't miserable while I was reading, so I guess I didn't hate it.
Doesn't mean I enjoyed it.
A Million Miles Away is the story of twins, Kelsey and Michelle. Kelsey is the free-spirited, partying, wild twin, where Michelle is artistic, deep kind. The book continues to be their story until one day, Michelle dies in a car crash. And unbeknown to Michelle's boyfriend Peter, the girl who keeps replying to his emails and answering his calls is actually Kelsey.
So the story is supposed simple. Kelsey takes Michelle's place in Peter's life because she feels the need to protect Michelle's memory, ends up staying there because she falls in love with Peter, gets caught, and is left alone. And for the most part this is what happens. Except, it pissed me off that it happened that way because from the hype that arose around this book, I was expecting more—more drama, more angst, more everything!
Kelsey was an average character, and one for whom I basically felt nothing. I know she was supposed to rouse my interest, and possibly my sympathy, but swear to God, I felt nothing. Maybe it was just me, but this girl was dull. She was supposed to be the wild child who did as she liked, but I never got that impression about her at all. She was popular in school, and she drank at parties but that doesn't make a free soul. In addition, while her heart was in the right place, her way of going about replacing Michelle was, frankly, stupid. There was no other way it would have ended, except with her getting caught.
Peter was just bleh. He was an Army guy and I respected that but there was nothing about him that made me want to cheer for him. He was sweet and clueless and…that's all really. He was a complete gentleman to Kelsey, and never pushed her too far but seriously. That is all.
Kelsey's parents were a fun lot. Before the car crash, they reminded me so much of my own parents…and it was so sweet. They were hip, in the way parents are, and when parents know that they're hip, they just try harder in the cute way they have. I love, love, loved both of them…until the crash. True relationships are tested in trying times and Kelsey's parents failed miserably in that particular test. Their daughter died and they were just so struck by their grief that they more or less turned a blind eye to Kelsey's. And this majorly pissed me off because I always thought parents are responsible to all their children—especially the living, breathing ones.
By the time I reached the end, I was tired and bored. The chain of events that started with the first email that Kelsey sent was supposed to begin a series of events that would eventually wreck her relationship with Peter in the long run. No such thing happened (the universe lives to disappoint me) but I was kind of expecting it. And then, after shit hit the fan, the book got even more pathetic. Everything was smoothed over, and all the loose plot holes were tied up, almost frantically. It was pathetic.
I'm one of the very few readers who have been majorly disappointed by this book but I find that I'm quite okay with that. The book was overhyped and I'd kept high expectations from this book, leading to a terrible reading experience, and all round sadness.
I was provided a free eARC of this book in exchange of an honest review. This did not in any way, however, influence the content of this review.