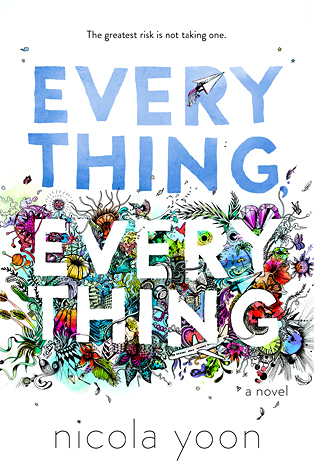 Everything, Everything by Nicola Yoon
Genres: Young Adult, Contemporary
Publisher: Delacorte Books For Young Readers
Date of Publishing: September 1st, 2015
 My Rating: ★★★★
 My disease is as rare as it is famous. Basically, I'm allergic to the world. I don't leave my house, have not left my house in seventeen years. The only people I ever see are my mom and my nurse, Carla.
But then one day, a moving truck arrives next door. I look out my window, and I see him. He's tall, lean and wearing all black—black T-shirt, black jeans, black sneakers, and a black knit cap that covers his hair completely. He catches me looking and stares at me. I stare right back. His name is Olly.
Maybe we can't predict the future, but we can predict some things. For example, I am certainly going to fall in love with Olly. It's almost certainly going to be a disaster.
REVIEW
"Everything's a risk. Not doing anything is a risk. It's up to you." – (ARC, location 449)
You guys, if this book isn't at the top of your TBR, then you need it to be. Reviewers, if you haven't read the ARC of this book, believe me you are missing out. This book is solid and fantastic. Everything about this book is pure literary perfection.
Madeline is allergic to everything around her. She has a rare genetic disorder called SCID (which is omg completely a surprise to me; I didn't even know something like this existed) and she's confined at home, staying in nothing less than a perfectly sterilised environment. It's only her mom and her nurse at home which basically means that she's missed out on a lot of social cues, simply because she's been closely involved with only two people her entire life.
Madeline is an avid reader (and a blogger, yay!) and that's something I adored about her. But the thing that drew me to her most was the fact that underneath every little thing she though about herself, underneath the frequent tests and the strict healthcare regimen and her desire to see the world from outside her window, here was a girl who was genuinely sad. And that hit me harder than anything because I had to actually take a break from reading for a while. This girl was unhappy and selfless—the most dangerous combination known to mankind.
But then her next door neighbour Olly moves in and the shift in Madeline's…well, everything is huge. Life-changing. Unfathomable, for a girl who doesn't know how to deal with feelings that aren't platonic. And that's something that turned the book around for me a second time. Olly, as a character, had his own issues. He wasn't perfect, his family wasn't perfect and Madeline saw this. She saw it from her window, she saw it in his actions, but them being together, Olly and Madeline? That was perfection.
Without delving too deep into the story—it's really something you should do yourself—I'd like to talk about the diversity the author seamlessly introduced into the book. Madeline herself is half Japanese half African-American. Her caretaker was a Latina. Olly was white. And yet, never once did her racial background cause any conflicts. She was herself, never once bothered by trivial things like the colour of your skin. The book was sex positive, and the sex scene was done brilliantly—showing both the intimacy and the vulnerability of the moment.
What really pushed the book down from a five star read to a four star read for me was the infamous plot twist. Now, judging by the reviews of Goodreads, some readers have either accepted the book as it, with the plot twist and all, while some others were disappointed by the easy cop out. Unfortunately, I'm of the latter opinion as well. It was a brilliant, tactful ending, and it did reduce me to tears, and yet, with the benefit of hindsight, it's really not something I wanted to see.
All in all, I'd say the book is a game changer in YA Contemporary. My opinion about the plot twist is my own, of course, and judging from other early reviews, people have obviously enjoyed the twist. Everything, Everything explores the entire world of being deprived of things a normal teenager has and yet, being able to live a relatively normal life. A definite, definite recommendation, not only to the YA audience and Contemporary lovers, but also to parents and non-readers. If I gave this book to a non-reader, chances are I'm seeing the face of a future bookworm.
I was provided a free ecopy of this book in exchange of an honest review. This did not in any way, however, influence the content of this review.