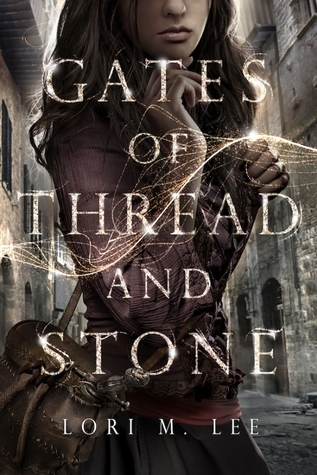 Gates of Thread And Stone by Lori M. Lee
Series: Gates of Thread And Stone #1
Genres: Young Adult, Fantasy, Science Fiction
Publisher: Skyscape
Date of Publishing: August 5th, 2014
 My Rating: ★★★
In the Labyrinth, we had a saying: keep silent, keep still, keep safe.
In a city of walls and secrets, where only one man is supposed to possess magic, seventeen-year-old Kai struggles to keep hidden her own secret—she can manipulate the threads of time. When Kai was eight, she was found by Reev on the riverbank, and her "brother" has taken care of her ever since. Kai doesn't know where her ability comes from—or where shecame from. All that matters is that she and Reev stay together, and maybe one day move out of the freight container they call home, away from the metal walls of the Labyrinth. Kai's only friend is Avan, the shopkeeper's son with the scandalous reputation that both frightens and intrigues her.
Then Reev disappears. When keeping silent and safe means losing him forever, Kai vows to do whatever it takes to find him. She will leave the only home she's ever known and risk getting caught up in a revolution centuries in the making. But to save Reev, Kai must unravel the threads of her past and face shocking truths about her brother, her friendship with Avan, and her unique power.
REVIEW
Speed is my ally. Breathe. In and out. Focus. Time is my power. (ARC, location – 2841)
The book is basically about Kai and her make-do brother Reev, who gets kidnapped early on in the book. Kai teams up with her long time crush Avan and venture out the gates of Ninurta (that's where they stay) to search for Reev. Along the way, she discovers that her power of being able to manipulate time is pretty unique and if used in the right way in the right time, it could make finding Reev that much easier.
Lori M. Lee's debut begins promisingly enough…manipulation of time, a blurb that promises a hundred percent female driven, action-filled plot, a bit of a romance (we all love those in Dystopia) and a lot of the mystery factor, guaranteed to keep the reader hooked.
That being said, however, this book starts by immediately throwing the reader into a world that seems to have rules of its own. A world that, as far as I was concerned, is deliberately kept in the dark, at least where it comes to giving crucial information about. If a world building is done right, we know it can mean immediate and absolute success for the book. Unfortunately for this book, the world building was shit. Nothing was clear, parts of the book contained info dumps, and what I did understand about the world, I didn't end up liking. So yeah. Total fail.
On the other hand, I really liked the MC, Kai. She was strong and brave and that's precisely what I wanted to see, especially in a girl who has a lot of shit handed to her. Not only was she a kind of girl who didn't take too well to being cast aside on the assumption that she was weak, she was actually smart enough to prove anyone wrong. her manipulation of time and her actually being able to stop or slow down time was described beautifully and they were my absolute favourite parts of the book.
Love interest Avan was…he wasn't the typical love interest. I couldn't connect with him, not really, and he was way too secretive, right until the very end. He was supposed to be a nobody, just Kai's crush and a shop owner's son, but he was given way too much importance, IMO. A lot of Kai's POV focuses on her constant longing for Avan and that got old pretty fast. He was protective of her, he had the whole best-friend-to-lover thing going for him BUT he could have been better. The romance was slow burn and when they were together getting all tentative touchy feely it was really cute to see, but Avan was really not the focus of the book. Or at least, he shouldn't have been.
To add to that, this is only the first book of the trilogy and there is already a second love interest who had been introduced. Quite an open plot for a love triangle. However, this is a love triangle I'm kind of eager to see. I know. I know. I'm super surprised too!
So apart from the rather pathetic world building, the other thing that bothered me was the Mythology bit in the end. It was awful. And completely unnecessary. And awful. I do think that originality would have suited this book best and it did, but the Mythology bit at the end kind of made me cringe. And that too wasn't explained very well so there goes. Another fail.
I wouldn't say this was the most impressionable debut for me(considering there were more things I hated than liked) but it definitely has a lot of scope for improvement in the upcoming sequels.
I was provided a free ecopy of this book in exchange of an honest review. This did not in any way, however, influence the content of this review.