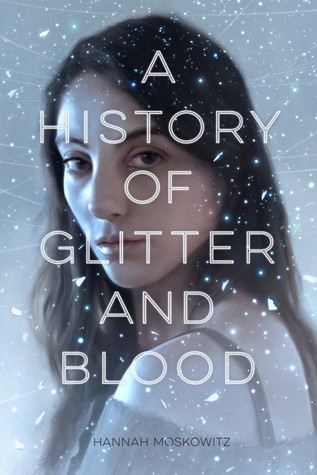 A History Of Glitter And Blood by Hannah Moskowitz
Genres: Young Adult, Fantasy, Romance
Date of Publishing: 18th August, 2015
Publisher: Chronicle Books
DNF @ 16%
Sixteen-year-old Beckan and her friends are the only fairies brave enough to stay in Ferrum when war breaks out. Now there is tension between the immortal fairies, the subterranean gnomes, and the mysterious tightropers who arrived to liberate the fairies.
But when Beckan's clan is forced to venture into the gnome underworld to survive, they find themselves tentatively forming unlikely friendships and making sacrifices they couldn't have imagined. As danger mounts, Beckan finds herself caught between her loyalty to her friends, her desire for peace, and a love she never expected.
This stunning, lyrical fantasy is a powerful exploration of what makes a family, what justifies a war, and what it means to truly love.
REVIEW
DNF @ 16%
There is a line where Fantasy becomes Unrealistic becomes What Is This Shit and A History of Glitter & Blood was definitely finding a way to straddle all of these lines. Obviously, there is a certain amount of consciousness of reality that I am willing to suspend when it comes to Fantasy, but, this was fucking ridiculous.I've never quite read a book quite like this one before—and while this should be a good thing, it most definitely was not. The book is based on faeries and gnomes and "tight-ropers," and was supposed to be fucking good. And yet, I couldn't quite convince myself to like the way the book was written, especially in its clumpy, messy form. I didn't read too much of it, barely 16%, and I couldn't remember squat once I'd finished reading it. The book is a mess that confused me completely, and while I can see the appeal and understand that it could be a beautiful mess to some, for me, it was a goddamn headache.
I highly doubt that this will stop me from reading the author's other works (I've heard so much about Gone, Gone, Gone, and all good, at that) but I wouldn't recommend this particular work if hers if you have minimal patience or limited time. Making sense of the writing took a crazy amount of time and I just didn't find it worth it.
Five Things I Love About You by Sarah Balance
Genres: Adult, Contemporary, Romance
Date of Publishing: 17th August, 2015
Publisher: Entangled: Lovestruck
My Rating: ★★
Five things to love about NYC. But she only needs one…
California landscape artist Estelle Donovan hates big cities. Between the grime, the smell, all the drab concrete, and the suffocating summer heat, how can anyone breathe? Housesitting her brother's New York apartment, complete with broken elevator and smoking air conditioner, is her kind of hell. It's only for two weeks, though. What could possibly go wrong?
Dumping a jar of pickles on the hot girl at the grocery store wasn't Crosby Chase's finest hour, nor was getting bitten in the butt by the demonic cat on her fire escape. But he is going to change her mind about his beloved city, damn it. In fact, if they could just make it five minutes without falling into bed, he bets Estelle he can find five things she'll love about New York.
Falling in love wasn't part of his plan. And with an entire country between them, Crosby realizes he doesn't need five reasons to make Estelle love New York.
He needs one big reason to make her stay…
Five Reasons This Book Was A Pain In My Ass
The Heroine was a mess.And I'm not talking hot mess. I'm talking a real, save-me-from-the-horror-of-reading-this-girl type mess. She absolutely hates the city, and I can understand and respect that. But sprouting off her reasons of dislike to an absolute stranger was…weird. That she would go to amazing lengths to make sure a New Yorker knew how much she loathed New York, thereby insulting him and his city was ridiculous. She was an elitist and to her, people who lived in the city were "perpetually angry people with a sarcasm problem."
The Hero was pathetic.Never have I seen a more formulaic, dull and insipid hero in my life! This guy was so fucking vapid, and to add to the fact that he was absolutely pussy whipped because he happened to drop pickle juice on the heroine and voila! Love at first sight. Then of course came the part where he was a reigning sex God (obviously) and a gentle giant (duh) and married to his job. And when the part came to choose between his job and his girl, let me tell you, readers, he was ridiculous, predictable and not at all someone I could remember. 'Nuff said.
The Flowery Language. If there's anything I hate more than clichéd and one-dimensional characters, it is flowery language. And lo and behold, this novella managed to have an abundance of both in it. The language was sappy and filled with a kind of dialogue that made me roll my eyes more often than not. And you'd think that a book like this, with the kind of writing it has would manage to show me some chemistry. Think again. Which brings me to:
Chemistry, what chemistry. For a couple that spends two weeks together, (and not all day because I'm assuming The Hero had to work, sometimes) has a lot of sex and basically is the first of a series of romantic novels about brothers who are all, I'm assuming Sex Gods With Huge Cocks And Gentle Souls, let me tell you one thing: I felt absolutely no chemistry here. The romance seemed as deep as a pothole and the two main characters gave me no motivation to continue reading their story. Everything happened too fast, and most of the two weeks were glossed over.
Then End. Dear Lord, that ending. Let me tell you, if you read this novella carefully, you will be able to predict what happens in the end. It was a sad and pathetic way of ending a book, any book,and this particular book was not in good terms with me anyway. But nope. Even the end of the book couldn't satisfy. Actually, wait. The end did satisfy. Because THE BOOK FUCKING ENDED.
Good Lord, I pray that I may not have to read books like these in my life ever again. Amen.
I was provided a free ecopy of this book in exchange of an honest review. This did not in any way, however, influence the content of this review.