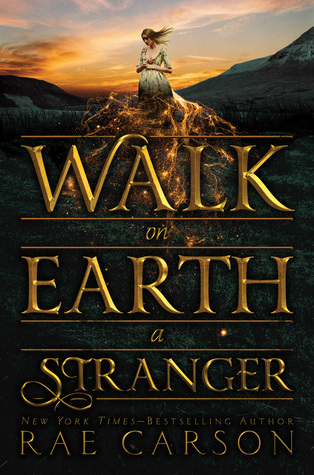 Walk On Earth A Stranger by Rae Carson
Series: The Gold Seer Trilogy #1
Genres: Young Adult, Fantasy, Historical Fiction
Publisher: Greenwillow Books -HarperCollins
Date of Publishing: September 22nd, 2015
My Rating: ★★★★
Lee Westfall has a secret. She can sense the presence of gold in the world around her. Veins deep beneath the earth, pebbles in the river, nuggets dug up from the forest floor. The buzz of gold means warmth and life and home—until everything is ripped away by a man who wants to control her. Left with nothing, Lee disguises herself as a boy and takes to the trail across the country. Gold was discovered in California, and where else could such a magical girl find herself, find safety? Rae Carson, author of the acclaimed Girl of Fire and Thorns trilogy, dazzles with this new fantasy that subverts both our own history and familiar fantasy tropes.
REVIEW
If there's any book that can grab you from the very beginning—the very first page—and keep you hooked, make you feel like there is only this book and nothing else, give you chills within the first five pages it is Walk On Earth A Stranger.
There's absolutely no doubt about how much readers adore Rae Carson—even I, who have never read her books can see that—especially on Goodreads. But to me, this author, this writing, this style of writing, everything was new. And I loved it.  Walk On Earth A Stranger isn't only about the Gold Rush in America, or about a girl who can sense gold in her veins—although it is all that too—it's about family that aren't related to you by blood. It's about how Queen Bey was always right—girls really do run the world. It's about how reading Leah and her journey made me feel proud to be a girl.
The book begins with Leah Westfall hunting to feed her family. The scene was so reminiscent of Sarah J. Maas' ACOTAR, that it gave me chills. Leah, however, is very different from Feyre in one simple way—she can sense gold in her veins. The gold that may run deep, deep down the Earth, that no miner would be able to reach is the gold that causes warmth to flow through her body. Her parents are aware of this and they keep this a secret that they guard until the very end. And still, someone knows. Someone who takes everything away from her, leaving her with nothing except to go on the road, disguised as a boy. Off she goes to California, hoping that the Gold Rush and the numerous migrants to the State can hide her.
Leah was just wonderful, you guys. There are no words for this heroine who was brave and smart and had my heart during the entire book. This girl who was from a time when a woman's only job was to clean the house and bear children, was stronger than most of the men I saw in the book. Not only was she unafraid of getting her hands dirty—both literally and figuratively—she was also more adaptive to her surroundings than anyone else. Repeatedly, this girl won me over with her charisma and her quick thinking and just her general way of being light on her feet—being able to find herself out of any sticky situation. This is precisely what kept me reading—Leah's absolute refusal to concede defeat at any point. She wanted it hard enough and she found a way to make it happen.
Most of the book—okay, almost 85% of the it—is slow. It's a bit different from other YA and while that's usually a good thing, in this particular book, the slow pace may turn some readers off. And that's okay. They're walking across the continent of America! Do we even comprehend how much walking that is? And the thing is, I didn't find myself bored by the details in the travelling—it was great to learn how people tackled problems in the 1800s. AWESOMENESS, through and through. Believe me.
With the romance, I'd say it was one of the best parts about the book—because it's almost non-existent. Yep. Zero – .5% romance in this one. Jefferson, Leah's best friend, is very much a part of her journey but not in the "getting frisky" zone. YET. This book has got to have one of the most slow burning romances yet and while that's usually not my preference, I loved it with Jefferson and Leah. These two are yin and yang and their friendship was portrayed brilliantly.
Even though I was skeptical about reading a book about a part of history I knew practically nothing about, I'm glad I did. There's so much to learn in a book like this, and when you have a protagonist like Leah (whom you will love from page 1), and a writing that is as sharp as Rae Carson's, what's to hate? This book will grab you and sweep you off your feet and make you believe that ass-kicking girls are everywhere.
I was provided a free ecopy of this book in exchange of an honest review. This did not in any way, however, influence the content of this review.