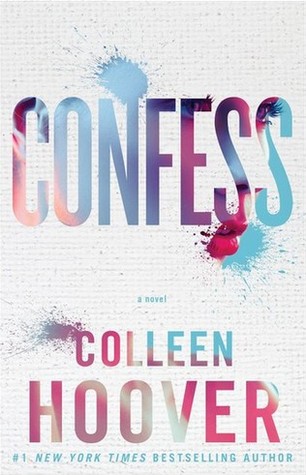 Confess by Colleen Hoover
Genres: New Adult, Contemporary, Romance
Date of Publishing: 10th March, 2015
Publisher: Atria Books
My Rating: ★★
Auburn Reed has her entire life mapped out. Her goals are in sight and there's no room for mistakes. But when she walks into a Dallas art studio in search of a job, she doesn't expect to find a deep attraction to the enigmatic artist who works there, Owen Gentry.
For once, Auburn takes a risk and puts her heart in control, only to discover Owen is keeping major secrets from coming out. The magnitude of his past threatens to destroy everything important to Auburn, and the only way to get her life back on track is to cut Owen out of it.
The last thing Owen wants is to lose Auburn, but he can't seem to convince her that truth is sometimes as subjective as art. All he would have to do to save their relationship is confess. But in this case, the confession could be much more destructive than the actual sin…
REVIEW
 Having only read Ugly Love and the Never Never series by Colleen Hoover (and having loved both), I pegged myself as a CoHo lover. I'm nowhere near the thousands of fans who hang on to her every word and have read her every book but I did like her work ( at least the ones I've read), and Confess was a book I was super excited for.
And in case my rating doesn't make it very clear, I was not too impressed by this book.
I'm a bit late to the party—okay I'm pretty damn late—but I tend to read hyped books only after the hype does down. I don't read them when they just come out, and I most definitely don't indulge myself in reading the 2865739 positive reviews they have on Goodreads. And with Confess, even though I'd pre-ordered it, I read this book almost 6 months after it first came out. I'd love to say that Auburn and Owen's "love story" made me all mushy and melted my heart, but I was indifferent to them throughout the book. Owen was weird and kind of quirky (which I liked) but Auburn was…honestly, this girl was an idiot.
For starters, this book read more like an Adult book, than New Adult. I know that in the long run it makes no difference, but if a book is pitched as NA, I'd like to see some NA. I'd like to see the characters behaving their age, and Confess just couldn't do that for me. I couldn't see any of their chemistry, the secondary characters were a joke, and of course, to add to the crap in the book, there was this shit:
"What the hell am I doing? I don't do this kind of thing. I don't invite guys into my home. Texas is turning me into a whore."
 If it wasn't for the beautiful pieces of art in this book, the insta-love and immaturity of the characters in it would have made me run away screaming a long time ago. Owen's paintings are a beauty and I don't regret buying this book only because of the paintings. His paintings were inspired by anonymous confessions that people left at his doorstep and I loved that idea! I wish I could be that talented too.
All in all, a very disappointing, very unfulfilling story with a sham of characters and an ending that made me want to commit bloody murder.
---
Carry Me Home by Lia Riley
Series: Off The Map #3.1
Genres: New Adult, Contemporary, Romance
Date of Publishing: 5th May, 2015
Publisher: Forever: Grand Central Publishing
My Rating: ★★★★
Love doesn't have to be perfect to be true…
Years ago, Tanner Green loved Sunny Letman. She was meant to be his first kiss, first love, first everything. Then their world spun upside-down and out of control.
Free-spirited Sunny doesn't do commitment. Sure, guys are great for a night or a week, but she always leaves first. That is, until professional skateboarder and town golden boy, Tanner Green, unexpectedly walks back into her life.
Despite their broken history, a fragile and undeniably electric connection still holds them together. Now Tanner has to convince Sunny that even though love isn't always perfect, it's worth sticking around for. . .
Review
"Shoot me, I like sex. If I wait for true love before getting busy, I'll be covered in cobwebs, and that's bad news for someone with arachnophobia." – (ARC, Location 33)
 You can't not love a book that starts like this…you just can't. You're not allowed. And anyway it's the Off The Map series so there's no question of not loving anything.
Tanner Green has always been a mystery, and honestly, also kind of a dickhead. I mean, we learn about this guy at his absolute worst and needless to say, most Bran-Talia shippers have spent the entire series hating Tanner. And if you're like me, you've been hating on him, while also drinking to Tanner because his stupidity single-handedly allowed Talia to make the decision to go to Australia, meet Bran, turn her life around.
But Carry Me Home showed Tanner Green—the boy on the cusp of adulthood, the guy instead of the asshole, the guy who often thought with his heart instead of his head. And it. was. glorious.
Sunny doesn't do love, relationships, commitments. And yet, this book was about finding the right person, with whom you'd take whatever they gave you. Sunny was crass, funny and kind—everything I love in a character I'm reading. She wasn't perfect, and she had her fair share of demons that held her back, but this was a girl who learned that conquering anything is possible with the right person by you. For some time, it was her grandmother Mimsy (who you're going to fall in insta-love with, trust me) and then there was Tanner.
I didn't think it would be quite possible for me to love any couple as much as I love Bran and Talia, and I don't, but let me tell you, I could have. Tanner and Sunny would have been serious competition to Bran and Talia had the novella been a full length novel. They were explosive together, and their chemistry was what wet dreams are made of. Their respective histories were clearly outlined, and even though the book was far, far too short for my liking, there was a sense of rightness and closure when the book ended.
Carry Me Home was beautiful and refreshing, in that it was a story that showed an apparent "villain" in a whole new light. It had just the right amount of conflict to make it perfect and the perfect amount of heart to make yours melt ❤
---
Hero by Samantha Young
Genres: Adult, Contemporary, Romance
Date of Publishing: 3rd February, 2015
My Rating: ★★
Alexa Holland's father was her hero—until her shocking discovery that she and her mother weren't his only family. Ever since, Alexa has worked to turn her life in a different direction and forge her own identity outside of his terrible secrets. But when she meets a man who's as damaged by her father's mistakes as she is, Alexa must help him.
Caine Carraway wants nothing to do with Alexa's efforts at redemption, but it's not so easy to push her away. Determined to make her hate him, he brings her to the edge of her patience and waits for her to walk away. But his actions only draw them together and, despite the odds, they begin an intense and explosive affair.
Only Caine knows he can never be the white knight that Alexa has always longed for. And when they're on the precipice of danger, he finds he'll do anything to protect either one of them from being hurt again…
REVIEW
The good part is, I didn't hate it. In fact, it's Samantha Young and her writing is spectacular so no hating there.
The bad part is, I expected more. More drama, more angst, more everything. And I really, really was unmoved by our hero, Caine Carroway.
The badder part is, Alexa Holland was the best thing that could have happened to this book. But didn't.
The "twist" in the book-namely, the connection between Caine and Alexa is revealed early on in the book. In fact, if I'm not mistaken, it happens before the 10% mark. So that's really early. Alexa's estranged father essentially destroyed Caine's mother and that somehow makes Alexa the worst person in the world, in Caine's eyes.  So we know that Caine hates Alexa, and why. But what we'll never know is why Alexa wants to win Caine's approval.
The entire book only revolves around how hot Alexa finds Caine, how much she wishes he would like her and how hot she finds him. And of course, she wishes to change his overworked, broken, damaged soul.  He, in turn, holds Alexa responsible for something her father did. He is cruel to her, almost to the point of over-working her to exhaustion, he's rude to her and in the pinnacle of all that is office ethics, he is almost sickeningly in need of her body, how hot he finds her.
Now, office romances are my favourite trope and I really like when co-workers fall in love. It's cute. Bosses and subordinates falling in love? Hot. And cute. But Hero was pathetic where it came to Alexa and Caine "falling love" because I saw no love between the two of them. Not only did their chemistry feel fake to read, they just wanted to claw each others' eyes out every time they weren't having sex together, and that does not a love story make. Besides being ridiculously like a brick wall, it took Alexa being injured for him to realise how much he "loves" her.
Cheap romance and genuinely depressing characters.
---