Title: Hold Me Like A Breath (Once Upon A Crime Family #1)
Author : Tiffany Schmidt
Genre : Young Adult, Contemporary
Publication Date : May 19th, 2015
Publisher : Bloomsbury Childrens'
| Goodreads | Amazon | B & N |
In Penelope Landlow's world, almost anything can be bought or sold. She's the daughter of one of the three crime families controlling the black market for organ transplants. Because of an autoimmune disorder that causes her to bruise easily, Penny is considered too "delicate" to handle the family business, or even to step foot outside their estate.
All Penelope has ever wanted is independence-until she's suddenly thrust into the dangerous world all alone, forced to stay one step ahead of her family's enemies. As she struggles to survive the power plays of rival crime families, she learns dreams come with casualties, betrayal hurts worse than bruises, and there's nothing she won't risk for the people she loves.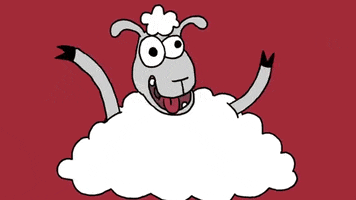 You see that guy above?  That's me.  I'm the crazy white sheep.  Let me explain how I came to be a crazy white sheep, when just a few days ago I was a semi-normal book blogger.
Like most stories about people turning into crazy sheep, this story too begins with a book.  In the last waning winter of my human life, I picked up a book called Hold Me Like A Breath.  I remember deciding that it had sat on my (virtual, Netgalley) shelf for too long, and it was time for me to read it.  The sequel to the book was a few months away from release too, which made picking up this all the more sensible.  And so I began to read.
Baaaaaa!
Excuse me.  Still controlling involuntary sounds, here.  Moving on!
Hold Me Like A Breath is a YA Mystery novel about a certain heiress Penelope Landlow.  Except, Penny is not heiress to a very comforting business—she is in fact the daughter of a family that is part of the organ trafficking mafia in America.  Her family, the Landlows, are very successfully providing organs to donors who A) are rejected organs in hospitals because of some reason or another and B) can pay for it.  Penny sees nothing wrong with the family business (she's 16 and her view of what the family does is skewed so I don't completely blame her) and is quite eager to be included in the daily workings of the business.  It's obviously not some noble "saving people, huntings things, the family business" sort of a thing, but it is all she's ever known.  The only problem here is that Penny suffers from ITP—a disease that prompts her immune system to destroy its own platelets, preventing normal blood clotting.  As a result, Penny is too fragile, bruises easily, and is basically unable to live the normal mafia-daughter life.
Penny, in a word, is dense.  I'd blame her, mostly, for my conversion into a sheep.  You see, I tried to be annoyed at her—I really did––but how do you possibly stay annoyed at a sixteen year girl who is the definition of a pampered brat.  I mean, I see why she's really not much of an asset in the action part of the book—the girl wants to take part in the family but doesn't attend any meetings, spaces out when information is given out, etc.  And since the book is entirely in her POV, there's nothing much that the reader can do about trying to understand how the whole organ trafficking things works.  But on the other hand, I also realised that the girl has issues of her own.  She isn't allowed to do anything at all, she craves the normal teenage she wants, has to depend on her older brother for even a night out of the house…are you feeling me?  I couldn't hate the girl AT ALL.
Other things you'll find in the book: a love triangle, an amazingly well done plot, really interesting characters.  The love triangle is…it's honestly tedious.  I tried my best to not let it influence my thoughts about the plot and pace of the story, because at its heart, the book is a Mystery.  I wouldn't even call it a love triangle—it's more of a lust/infatuation/attraction triangle, really.  I loved the mystery part of the story itself, it was interesting and kept me on my proverbial toes—now hooves—and the twisty parts were so much fun!  I did not anticipate who was what and why, it was a complete shocker, which is brilliant in itself.
If you've seen the Goodreads reviews of this book, then you know that people have disliked Penny more than anything.  And here's the crazy part—my human self agreed with everything the reviewers pointed out about her.  Penny is dense.  She is kind of silly.  She is reckless, and yes she "falls in love" way too easily.  But she's sixteen, and has only ever known the comfort and luxury of her house.  I, for one, didn't expect any better from her, which is why, all the turmoil in my mind prevented me from completely loving her and turning into a proper black sheep.  Instead, I turned into this.  A crazy, fucking white sheep.
ANYWAY.
I find myself settling into the sheep life well.  At the cost of turning more of you into livestock (it's kind of fun, but not really) I'd say that Hold Me Like A Breath deserves a chance.  It's not as bad as I thought it would be, it just requires a little patience and a bit of TLC.  I'm actually looking forward to Break Me Like A Promise which promises a more badass, more mature MC, and will hopefully be able to turn me back human (although there's no hurry, I rather like being pampered).  The Princess and The Pea retelling didn't really make a very big impact on the way the story flowed—I hadn't even realised the similarity until my transformation was complete—but again, do give the book a try.  You might be pleasantly surprised.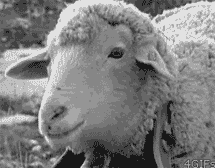 I was provided a free earc of this book by Bloomsbury USA Childrens' through Netgalley in exchange of an honest review. This did not in any way, however, influence the content of this review.