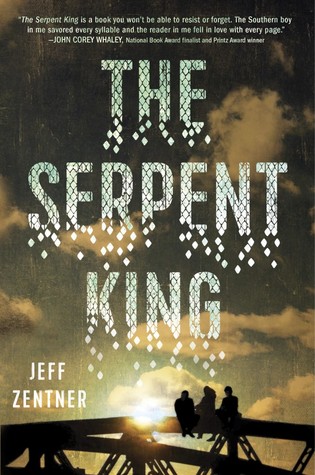 Title: The Serpent King
Author : Jeff Zentner
Genre : Young Adult, Contemporary
Publication Date : March 8th, 2015
Publisher :  Crown Books for Young Readers/PRH
| Goodreads | Amazon | B & N |
Dill has had to wrestle with vipers his whole life—at home, as the only son of a Pentecostal minister who urges him to handle poisonous rattlesnakes, and at school, where he faces down bullies who target him for his father's extreme faith and very public fall from grace.
He and his fellow outcast friends must try to make it through their senior year of high school without letting the small-town culture destroy their creative spirits and sense of self. Graduation will lead to new beginnings for Lydia, whose edgy fashion blog is her ticket out of their rural Tennessee town. And Travis is content where he is thanks to his obsession with an epic book series and the fangirl turning his reality into real-life fantasy.
Their diverging paths could mean the end of their friendship. But not before Dill confronts his dark legacy to attempt to find a way into the light of a future worth living.
I don't think Adam Silvera was joking when he said that The Serpent King is like a punch to the heart, because it is exactly that.  It's a total game-changer, you guys.  It's going to rock your boats.
The Serpent King is the story of three seniors who are best friends—Dill, Lydia and Travis—and the summer before school ends forever.  For Lydia, this means freedom from the small-minded, too-much-heaven-on-their-minds type people in their rural town in the South.  Travis, their gentle giant of a friend, is content in the town, with his favourite epic fantasy book series, and the entrance of a new fangirl into his life.  But for Dill, graduation and the life beyond represents everything that he won't be experiencing ever.  He is, after all, the son of a Pentecostal Minister who was publicly disgraced, has a legacy to defy, and is burdened by his parents' mistakes that won't pay themselves off.  Basically, there's too much going on in Dill's life for him to think of a steady future for himself.
You know those type of books that you go into with all the energy because goddamn the, cover is so eye-catching, the premise sounds so good and people you trust have loved the book, so you kind of feel all the good things about the book?  The Serpent King was that for me.  I went into it knowing that I'd love it, and that it would break my heart.  And I'm happy to report that this book is the kind of book that will tear your heart out, and then put it together.  Spectacularly.
One of the most interesting things about the book is that each character in the book brings something different to the story.  Travis brings his imagination, his resilience, his innocence.  Dill brings his strength, his musical talent, his maturity.  And Lydia? Lydia brings light and optimism and smiles in a town that desperately needs all three of those.  I'm not even going to deny it—Lydia was my absolute favourite of the lot.  I loved all three—you can't help but love them all—but I harbour a major girl crush on this particular girl.  In my opinion, she grew so much, changed her outlook, her ways, her almost everything, and she became all the more better for it.  LOVE the girl.
The lesser you know going into the book, the better.  I, for one, took the "serpent" part for granted, thought it was more metaphorical than anything else, but I was pleasantly surprised!  Other than that tidbit, the only thing you also need to know before diving into the book is that you'll need to stock up on that Kleenex.  Happy tears, sad tears, all kinds of tears.  Beware of crying on public transport—best to read the book in the safety of your house.
I was provided a free earc of this book by Penguin Random House UK Childrens' through Netgalley in exchange of an honest review. This did not in any way, however, influence the content of this review.