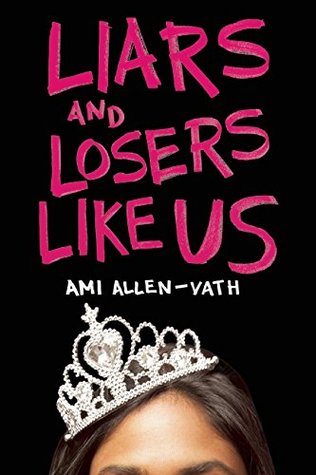 Title: Liars And Losers Like Us
Author : Ami Allen-Vath
Genre : Young Adult, Contemporary
Publication Date : March 15th, 2016
Publisher :  Sky Pony Press
| Goodreads | Amazon | B & N |
Keep calm and make it to prom night—without a legit panic attack.
For seventeen-year-old Bree Hughes, it's easier said than done when gossip, grief, and the opportunity to fail at love are practically high-fiving her in the hallways of Belmont High.
When Bree's crush, Sean Mills, gives her his phone number, she can't even leave a voicemail without sounding like a freak. Then she's asked to be on Prom Court because Maisey Morgan, the school outcast nominated as a joke, declined. She apologizes to Maisey, but it's too late. After years of torment and an ugly secret shared with their class's cruel Pageant Queen, Maisey commits suicide. Bree is left with a lot of regret…and a revealing letter with a final request.
With Sean by her side, Bree navigates through her guilt, her parents' divorce, and all the Prom Court drama. But when a cheating-love-triangle secret hits the fan after a night of sex, drinks, and video games, she's left with new information about Sean and the class Pageant Queen. Bree must now speak up or stay silent. If she lets fear be her guide, she'll lose her first love, and head to prom to avenge the death of the school outcast—as a party of one.

REVIEW
Where the synopsis promises drama, heartbreak, grief, and even swoons, Liars And Losers Like Us unfortunately failed to deliver.
This book was a huge, huge disappointment to me.  You see, according to the blurb, when Maisey, a student from her school commits suicide, protagonist Bree Hughes tries to deal with the guilt of not having helped Maisey when she could, and deals with her grief alongside her boyfriend Sean Mills.  But what I got was a flimsy portrayal of Maisey being bullied, her tragic suicide that only felt like a plot device, and a long-ass speech at the senior prom that felt as forced as it was unnecessary.
The book which should have been about the impact of a fellow student's suicidal on a school community was actually a 240 page long discussion on how much more important prom was than anything else on the planet.  I've been a teenager and I've been to dances, and thankfully, I know for a fact that teens really aren't as shallow as this book showed them to be.  The mention of Maisey's suicide was used in inside jokes even after her death, which seemed like something not even the most immature of teens would do.
The other thing that this book was chock full of was high school drama that was petty and confusing and absolutely pathetic.  It read like a monologue on exactly how not to spend your time in high school, and I was very very surprised at the utter ridiculousness of some of their conversations.  It got to a point where I had to stop, take a little break, skip a few pages ahead and then continue reading.
The love interest, Sean, was a one-dimensional, static character, who, in my opinion, featured way too much in this book.  He was the textbook book boyfriend (plays the guitar, smells good, doesn't push for sex, loves the girl in a month's time) and all of his cliché attributes made me irritable every time he opened his mouth to speak.  And sharing classes with Maisey was one thing, this guy didn't even acknowledge that one of his classmates was dead.
Definitely one book you can go without reading this year.
 Title: Into My Arms (Off The Map #3.2)
Author : Lia Riley
Genre : New Adult, Contemporary
Publication Date : September 8th, 2016
Publisher : Piatkus
| Goodreads | Amazon | B&N | iBooks | 

"You're here because I want to touch you."
Beth Jacobs spends her days slogging away in a corporate "fish bowl," as the hard-working assistant for one of North America's youngest dot-com billionaires. Aleksander "Z" Zavtra is the definition of dark and dangerous with a sexy Eastern European snarl. He's also ruthless. Curt. Exacting. An infuriating man she loves to hate. While Beth hardly sees him, it's as if he's always watching her . . . Z doesn't do romance. But he never expected to be captivated by a whip-smart, fiery assistant who just so happens to share an uncanny resemblance to the beautiful face that haunts his dreams. He craves Beth. He wants to stroke her skin, to feel her heat beneath him. And what Z wants, he gets. And for one weekend, the lines between employer and employee are blurred as Z and Beth give themselves completely to the dark pleasures they've both been dreaming about.
REVIEW
Talk about a book that ended fast…way too fast. So fast, that I didn't have enough time to connect with it.
This is precisely why the idea of novellas about secondary characters don't sit too well with me. I'm a fan of the 300 odd page love story—the beginning, the middle, the conflict, the reunion—and I probably always will be. Which is why, for me to accept that a full length's worth of story has been cramped into a 150 page novella, and then to actually like said novella is something that causes me a physical ache in my chest.
Keeping all this in mind, I'd say I liked Into My Arms. It wasn't a bad book by any means and it made me so, so happy to finally see Beth and Z's story. However, I also wouldn't say this was Lia Riley's best work. Maybe I feel this way because it was too short, or because the story itself felt a bit unlike the author's usual MO, but something definitely felt off. And I didn't like that one bit.
The story is about the mysterious hero, Z, owner of Zavtra Tech, surveillance aficionado, and his lady love Beth, whom we know as being one of Talia's best friends, and personal assistant to Z. Except, she hasn't seen him, not really. Sure they talk, a lot, but strictly business and only through messages on a computer. Basically, she works for messages on a screen.
And then, one evening, both their lives are turned upside down when Z invites Beth over to his place for a bit of TLC. As secrets are revealed on both sides and Beth understands why exactly Z cannot stand to be touched, she can't resist falling for this elusive, beautiful man who makes her feel. As for their chemistry, they were okay. cringes  I've read better literary couples, I really have, and I found myself boarding the Sunny-Tanner ship. But this one? Yeah…not so much.
Again, I didn't hate the book. In fact, I loved the writing that felt both typically Off The Map but also a thing of its own. But I wouldn't say that I really connected with the characters either. I'm more of a talk-it-out romance lover and this book was basically love-through-sex. I'm not against it, but it just isn't for me. So there was that. Also, Z's history was really fascinating and regardless of whether or not I liked the book, I appreciated a chance to once and for all have a glimpse into the life of this man who essentially solved most of Bran and Talia's problems in Inside Out.
As far as novellas go, I've read better and I've most definitely read worse. I'm a teensy bit disappointed with the lack of real chemistry and the length was absurdly short. I can only hope for better if at all the author decides to pursue some other character's story from the series.
I was provided a free review copy by Sky Pony Press & Piatkus through Edelweiss & Netgalley respectively in exchange for an honest review. This did not in any way, however, influence the content of this review.