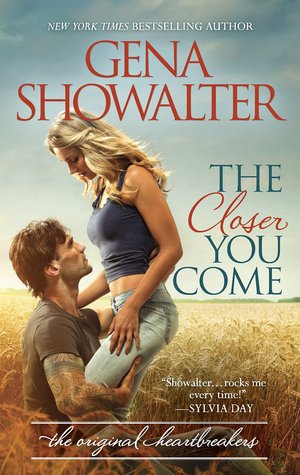 New York Times bestselling author Gena Showalter introduces the Original Heartbreakers, where three not-quite-reformed bad boys are about to meet the women who will bring them to their knees.
Just released from prison, Jase Hollister has a dark and twisted past. And now, he has only one goal: stay out of trouble. Strawberry Valley, Oklahoma, sounds like the perfect place for him and his two brothers-by-circumstance to settle down and live a nice, simple life. But model citizen isn't exactly this rugged bachelor's default setting—especially when it comes to a certain hot-blooded Southern beauty…
Brook Lynn Dillon has always been responsible. Not that it's done her much good. The down-on-her-luck waitress is broke, single and fun-deprived. Until Jase comes along. He is dangerous, stunningly protective, breathtakingly sexy and as tempting as sin, and the passion sizzling between them is undeniable. But can it melt her resistance? After all, the right kind of trouble might be just what they both need.
REVIEW
Pay attention to me, reader, and do as I say, not as I did.  The Closer You Come is not the type of book you want to be reading on your bad days.  Believe you me, you don't to be responsible for committing mass homicide.  You see, this book has this uncanny habit of being really good in some places, and really fucking terrible in the other.  There is absolutely no sense of balance whatsoever, and if that isn't enough to scare you away, I've got something for you.  Don't say I didn't warn you.
"It was common knowledge that big, bad city boys spent the bulk of their time sleeping around, coiffing their hair and posting pictures of food on the internet." 
"What's the difference between what you're saying and a knife? A knife has a point."
And my personal favourite:
"I'm going to check on the food. I won't be gone long."  "It'll still feel like forever."
Yes, these are actual lines from an actual published book.  I know.  I don't believe it either.
So here's the rundown: Jase Hollister is a criminal on parole.  He doesn't want trouble, he just wants to be left alone.  Brook Lynn Dillon is basically her sister's keeper.  I'm talking about her being concerned about her older sister's well being to the point of obsession.  And a love story that begins when Brook Lynn finds Jase in bed with her older sister.  SHE ACTIVELY PURSUES A MAN THAT SLEPT WITH HER OLDER SISTER AND TREATED HER LIKE TRASH.
I wasn't too impressed by the writing either.  The entire book felt choppy, and I couldn't exactly empathise with the characters at all.  Jase's friends were kind of a riot though (the next two books of the series are based on them) and maybe I'll try them at a later date.  But as for this one, NOPE.  Cheesy dialogue, insta-love, Brook Lynn's obsession with zombies (an ode to the author's zombie series, perhaps?) and the basic premise of a stubborn, good for nothing hero meeting his "angelic" lady love, the TWIST that comes out of nowhere, all of this just did not sit too well for me. The book would have been so much better had there been more substance in both the plot and the people in the book.
Basically? Move on. Nothing to see here.
I was provided a free ecopy of this book by Harlequin US through Netgalley in exchange of an honest review. This did not in any way, however, influence the content of this review.