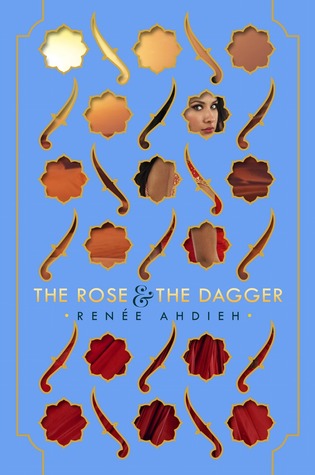 Title: The Rose & The Dagger (The Wrath & The Dawn #2)
Author : Renee Ahdieh
Genre : Young Adult, Fantasy
Publication Date : April 26th, 2016
Publisher :  G.P. Putnam's Sons Books for Young Readers
| Goodreads | Amazon |
I am surrounded on all sides by a desert. A guest, in a prison of sand and sun. My family is here. And I do not know whom I can trust.
In a land on the brink of war, Shahrzad has been torn from the love of her husband Khalid, the Caliph of Khorasan. She once believed him a monster, but his secrets revealed a man tormented by guilt and a powerful curse—one that might keep them apart forever. Reunited with her family–who have taken refuge with enemies of Khalid–and her childhood sweetheart Tariq, she should be happy. But Tariq now commands forces set on destroying Khalid's empire. Shahrzad is almost a prisoner caught between loyalties to people she loves. But she refuses to be a pawn and devises a plan.
While her father, Jahandar, continues to play with magical forces he doesn't yet understand, Shahrzad tries to uncover powers that may lie dormant within her. With the help of a tattered old carpet and a tempestuous but sage young man, Shahrzad will attempt to break the curse and reunite with her one true love.
REVIEW
Mild Spoilers for The Wrath & The Dawn
Writing this review is slightly awkward.  You see, I wasn't the biggest fan of The Wrath & The Dawn.  To me, the writing was dispassionate and detached, and though I admired Shazi and her wit and charm and strength, she did feel like a piece of cardboard to me.  But this book.  THIS BOOK.  I don't know what happened, you guys, but I can't get The Rose & The Dagger out of my head.  After a month of not having reading anything except law textbooks continuously, TRATD was the perfect read to pull me out of my slump.  I went in expecting little, but IT. WAS. GLORIOUS.
The Rose & The Dagger begins roughly a month or so after where the deadly cliffhanger of the previous book left us.  Khalid and Shazi are on two opposite sides of the kingdom, and neither of them are doing any better than the other.  And even out of the two of them, Shazi has it worse.  For starters, she's with Tariq who loves her but she wants to friend zone.  To add to that, Tariq wants to kill her husband.  Yep.  Awkwardness all around.  And of course, if you've read the end of TWATD, then you know there's also a whole deal with Shazi's father, Jahander.  For Khalid, the curse continues to keep him awake, his city is in shambles, not to mention his relationship with his own family is a mess—the man is falling apart at the seams.  And without his wife to keep his wits about him, his future looks bleak.
With TRATD, we see Shazi accepting the magic inside her more readily.  She is determined to break the curse that haunts her husband, and by extension her, and she is desperate.  By god, the woman is desperate to end it.  But magic like that comes at a price, and TRATD is basically a book about the choices that these two make—both together as husband and wife, and individually— and the consequences of their choices.  I loved seeing Shazi act like the Queen she is, and being damn good at it.  She owns up to her decisions, does not back down, and as much as she misses her husband, she does not often allow emotions to cloud her judgement.  Her tenacious nature and sharp tongue are as much her saving grace as her magic, and this particular book allows the reader to experience both equally.  We see Khalid, too, keeping the vow he took at the end of the previous book.  He is finally ready to take on the responsibilities of being a Caliph—the Caliph that the people of Khorasan deserve.  I think it's fair to assume that Shazi changed him for the better, and it shows, but does not overwhelm.  She is at the forefront of his mind, always, but the decisions he takes for his people are all his own.  The boy finally becomes deserving of his position as King.
I especially loved the court politics, and the rebellion and the planning of war.  I'ma sucker for action, and minimum though it was, I enjoyed seeing everything that went into planning a war.  Without giving out more spoilers than necessary, I'd say that the things the reader sees in TRATD, at least relating to kingdom politics, far exceeds its predecessor in both quality and quantity.  People are at the end of their patience with Khalid and seem determined to do something about it.  At the forefront of this battle are Tariq and Rahim, both of whom we see a lot more of.  I was vary of Tariq, and how his allegiance to Khalid-haters (he was a Khalid-hater himself, actually) would mean for his friendship with Shazi, but I was pleasantly surprised at how everything was handled.
The only part of the book I was less than impressed with was the addition of the bazillion new characters.  I would have much liked to see the original cast playing a bigger role (see: Jalal, Despina) but all the new characters, with their own stories, their own agendas, and of course, their own endings was a bit much.  The climax of the book, though impressive, felt a bit rushed and I can only blame it on all the stuff that had been crammed in one single book.
Now for the difficult part:
A)  Did I like the writing?  I LOVED it.  This book felt so vastly different from the previous, writing-wise, that it could have been by two different authors!  I loved every word, savoured every interaction between characters, even swooned at ALL the romance (wink wink nudge nudge).  Definitely not dispassionate writing anymore, and I truly, truly, enjoyed this book thoroughly.
B)  Do I recommend the duology? That's tough.  I stand by my thoughts on The Wrath & The Dawn (that you can find here) and I do realise that they are less than kind.  I wouldn't have read this series if it was anything but a duology, but it was, and I'm glad. So here's a simple answer:  If you like the first book, then stick with the series.  Read all the little novellas.  They'll make for a richer experience, I guarantee you.  But, like me, if it's difficult for you to stand the first book…stick with the series anyway.  I know how that sounds—inconsistent and indecisive on my part.  But trust me, it gets better.
And it is so worth it.