Title: 26 Kisses
Author : Anna Michels
Genre : Young Adult, Contemporary
Publication Date : May 24th, 2016
Publisher :  Simon Pulse
| Goodreads | Amazon |
Breaking up with her boyfriend is not how Veda planned on starting her summer. When Mark makes it clear that it's over between them, Veda is heartbroken and humiliated—but, more importantly, she's inspired. And so she sets out on the love quest of a lifetime: use the summer to forget about Mark, move on, and move up. All she has to do is kiss twenty-six boys with twenty-six different names—one for each letter of the alphabet.
From the top of the Ferris wheel at her hometown carnival to the sandy dunes of Lake Michigan, Veda takes every opportunity she can to add kisses (and boys) to her list, and soon the breakup doesn't sting quite as much. But just when Veda thinks she has the whole kissing thing figured out, she meets someone who turns her world upside down.
By turns hilarious and heartbreaking, Anna Michels's debut is the story of one girl who realizes that moving on from the supposed love of your life means taking a chance—and having the courage to love again.
REVIEW
This book was so annoying, it should be honoured.
In the summer between her junior and senior year of school, Veda decides (or should I say, is coerced by her best friend) to kiss 26 boys, each for the letters of the alphabet.  All of this because her boyfriend of whatever years, Mark, broke up with her, and she has to get over him ASAP.  Fair enough, but then it gets even more ridiculous—Veda is shown as being a prude (who agrees to a dare like this?) and her best friend Mel is shown as being some kind of a tramp who flirts with boys and then leaves them (so obviously she suggested the dare in the first place.)
The book was childish and their problems were petty, and the only thing that made it more ridiculous was the fact that Veda thought every boy she kissed developed feelings for her.  We also have a few dogs and family members doing the kissing, unknowingly helping Veda reach her goal.  YA Contemporary has a lot of MCs making stupid decisions, but I'm horrified to report that this one might be right up there with the top ten worst ones.  The book had a beautiful premise, but the execution is what failed, and I would have loved to see some other girl take up this challenge.  Anyone but Veda.
And because we can't have a girl kissing every one in town without falling in love with someone who is not on her list, that is exactly what happens.  The love interest in this book is all well-built, shaggy hair, lyric-y life (of the pop variety) and has the patience of the Lord Himself.  Veda knows she likes him, she knows he likes her, and yet she's perfectly content with completing her kissing challenge.  All the while she was uncomfortable with the challenge and filled to the brim with skepticism whether it would work , and yet she kept doing it.  It was exhausting.  I'd say this book is best skipped in favour of better written, better executed plot lines, and characters that don't make you want to go on a murderous rampage.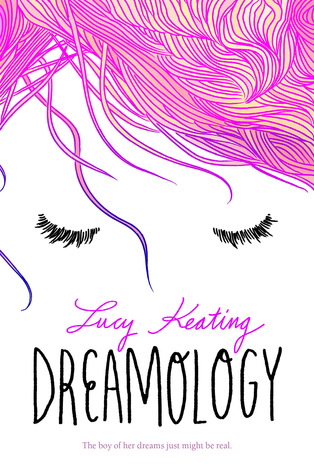 Title: Dreamology
Author : Lucy Keating
Genre : Young Adult, Contemporary
Publication Date : April 12th, 2016
Publisher :  HarperTeen
| Goodreads | Amazon |
For as long as Alice can remember, she has dreamed of Max. Together they have traveled the world and fallen deliriously, hopelessly in love. Max is the boy of her dreams—and only her dreams. Because he doesn't exist.
But when Alice walks into class on her first day at a new school, there he is. It turns out, though, that Real Max is nothing like Dream Max, and getting to know each other in reality isn't as perfect as Alice always hoped.
When their dreams start to bleed dangerously into their waking hours, the pair realize that they might have to put an end to a lifetime of dreaming about each other. But when you fall in love in your dreams, can reality ever be enough?
REVIEW
I went into Dreamology expecting a lot.  A lot a lot, which is probably why I got burned.  Inspite of my less than impressed stance on this book, I'm still having difficulty expressing why exactly I'm disappointed.  You see, this book didn't make me laugh, or cheer me up, or make me question my questionable life choices.  Neither did the book piss me off.  So I'm basically the mother of confused about this book.  And this is all really funny, because I loved Alice, the MC, to death.
The basic summary of this book is that Alice has been seeing a boy, Max, in her dreams since she was a child.  As she grew, so did Max.  When they were older, they fell in love, and now, at sixteen, meeting Max in her dreams is the happiest part of Alice's day.  However, she knows very well that Max is a figment of her imagination, and that screwed up as it sounds, she's in love with someone who isn't real.  Of course, everything changes when at her first day in a new school, she realises that Max is, in fact, real, and he's nothing like the Max of her dreams.
The rest of the story revolves around Alice and her quest to understand how and why exactly Max and her have been dreaming of each other all their lives.  There are quite a few twists and turns, new characters are introduced with partial answers for the duo, and it's quite fun to see Alice and Max getting to know each other outside of their dreams.  And then the unthinkable happens—their dreams start bleeding into their reality, to a point where both are losing the ability to tell the difference.  It's dangerous and in order to stop them from losing their sanity, they have to stop dreaming about each other.  Which is easier said than done.
Unfortunately for me, I didn't quite enjoy the romance in the book.  I understand when readers say that it was swoony, but to me it just felt forced and awkward.  Max gave me whiplash with his Will-I, Won't-I approach towards Alice.  It was pretty unfair, and that made me dislike him until the end.  And then there was the minor matter of me enjoying reading about the secondary characters much more than Max and Alice.  (Although, my love for Alice knows no bounds, she was brilliant!)  In fact, I had a completely different ship, if you can believe it.  Needless to say, it sank like a stone.
I did enjoy Keating's writing, though, and I won't be giving up on the author at all.  I loved the way she gave out little information in little pieces and kept the reader guessing, waiting.  Also, the writing was so…happy?  That a thing?  It really was, though. It was cheerful and joyful, and I suspect it would make a reader smile, even one who didn't enjoy the book.  Do I recommend the book?  Maybe.  The response to this book can be very subjective, but it's definitely a book you need to read to judge for yourself!
I RECEIVED THese BOOKs FOR FREE FROM Simon Pulse & Harperteen respectively THROUGH Edelweiss IN EXCHANGE FOR AN HONEST REVIEW. THIS DID NOT IN ANY WAY, HOWEVER, INFLUENCE THE CONTENT OF THIS REVIEW.