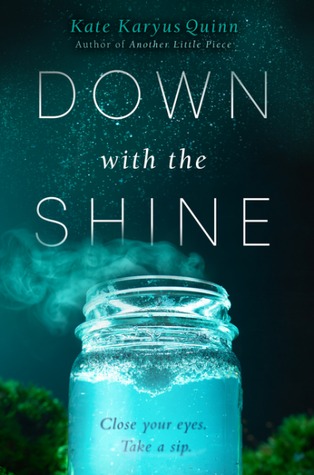 Title: Down With The Shine
Author : Kate Karyus Quinn
Genre : Young Adult, Fantasy
Publication Date : April 26th, 2016
Publisher : HarperTeen
| Goodreads | Amazon | 
Lennie always thought her uncles' "important family legacy" was good old-fashioned bootlegging. Then she takes some of her uncles' moonshine to Michaela Gordon's annual house party, and finds out just how wrong she was.
At the party, Lennie has everyone make a wish before drinking the shine—it's tradition. She toasts to wishes for bat wings, for balls of steel, for the party to go on forever. Lennie even makes a wish of her own: to bring back her best friend, Dylan, who was murdered six months ago.
The next morning gives Lennie a whole new understanding of the phrase be careful what you wish for—or in her case, be careful what wishes you grant. Because all those wishes Lennie raised a jar of shine to last night? They came true. Most of them came out bad. And once granted, a wish can't be unmade…
REVIEW
Basically just a big bad nope.
Down With The Shine had an intriguing premise, promising magic and family traditions and chaos.  What ultimately reached my copy was a book with great potential, but a very faulty execution.  There are hardly any positives I can vouch for in this book, but let's see.
Our protagonist Lennie, lives with her trio of quirky uncles who are in the business of bootlegging moonshine.  In the setting that the book is based in, we discover that Lennie's best friend, Dylan, has recently passed away in mysterious circumstances.  In order to honour Dylan, Lennie decides to sneak some of her uncles' moonshine into Michaela Gordon's annual party—the party to beat all parties—and while there, she happens to grant people their wishes before they drink the shine, as per tradition.  The next morning, Lennie realises that all the wishes she granted have some true, and this opens a whole new set of problems for her.
Now, Lennie was quite a promising character in the beginning. I liked her, I sympathised with her grief, I understood how she kind of folded into herself after the death of Dylan.  What I didn't get is how, by the middle of the book, a character like hers kind of spiraled down into this entitled, whiney girl who made the crappiest decisions, and made me cringe every time she spoke.  And I'm not only talking about Lennie.  I'm talking about Dylan—her bestie who comes back, Smith—Dylan's brother, and a myriad of other characters who were thrown in for some reason I suppose, but only acted as comic relief.  The characters were under-developed with no depth and no motives.  With their weird wishes that were granted, and their absolutely stupid reactions, I honestly didn't have it in me to take any of them seriously.
There was no plot.  It felt like the book was aimless and kind of just drifted through, looking for material to make a page out of.  There were things hat felt ridiculous, and others that were so deep I couldn't imagine adults doing them, let alone a bunch of misguided teens.  The book operated in extremes and there were slow pages, and then pages were plot flew by.  Basically, nothing happened, and when something did, it made no sense whatsoever.
 The romance was completely unnecessary.  I really could have done without the romance.  Smith was upset with Lennie after Dylan's death because he held her responsible, sent her some hateful voice mails and glared at her whenever she was near.  But by a twist of fate (and Lennie's wish granting abilities), Smith ends up stuck with Lennie by the hands.  They are literally holding hands while he hates her, and then starts to become affectionate of her, and then of course it is revealed that he loved her all along.  it was a shit-show that I wanted no part of.  Did I also mention about how he beat her up?  No?  There you go.
I'm going to be honest here—I understood close to nothing about the rules of wish giving.  It was contradictory and stupid, and incredibly vague, which only shows poor planning.  There were plot holes I could drive trucks through, and when the final explanation was laid down, I wanted to kill something.  As fun as I hoped it would be, as much I was trembling with anticipation before I read this book, I'd say that this book is best skipped.
I WAS PROVIDED A FREE EARC OF THIS BOOK BY BALZER & BRAY THROUGH EDELWEISS IN EXCHANGE OF AN HONEST REVIEW. THIS DID NOT IN ANY WAY, HOWEVER, INFLUENCE THE CONTENT OF THIS REVIEW.