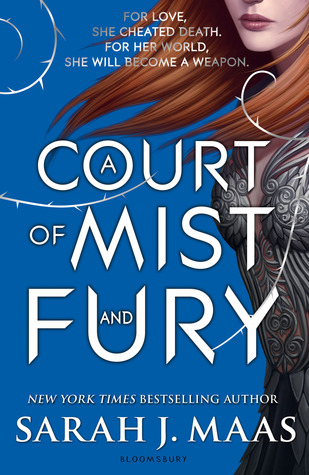 Title: A Court of Mist and Fury
Author : Sarah J. Maas
Genre : New Adult, Contemporary
Publication Date : May 3th, 2016
Publisher :  Bloomsbury Childrens Book
| Goodreads | Amazon |
Feyre is immortal.
After rescuing her lover Tamlin from a wicked Faerie Queen, she returns to the Spring Court possessing the powers of the High Fae. But Feyre cannot forget the terrible deeds she performed to save Tamlin's people – nor the bargain she made with Rhysand, High Lord of the feared Night Court.
As Feyre is drawn ever deeper into Rhysand's dark web of politics and passion, war is looming and an evil far greater than any queen threatens to destroy everything Feyre has fought for. She must confront her past, embrace her gifts and decide her fate.
She must surrender her heart to heal a world torn in two.
REVIEW
SAME, ADITI. SAME.
Super spoilers for ACOTAR (book #1).  Read at your own risk!
This post is only vaguely review shaped.  It is a rant and a discussion and a review and a purging of feels all in one.  Keeping this in mind, do forgive my occasional inability to put into words what I feel about this book—I may be a lot of things, but I am not even close to being over this book, and it. is. overwhelming.
The first thing I thought of when I finished reading A Court of Mist and Fury was not how much I loved it, but how less I loved ACOTAR in comparison.  Of course, ACOTAR continues to be one of my favourite books of 2015, but after ACOMAF I'm left floundering, wondering how on Earth I gave any other book 5 stars at all.  ACOMAF is nothing short of a literary miracle.  The twists and turns, the new characters, the magic of this world SJM has created, all of it has taken over my mind and heart in a way that has left me absolutely unwilling to let this book out of my sight.
ACOMAF begins three months after the events that unfolded at Under The Mountain.  We see Feyre going through post traumatic stress, unable to reconcile the fact that she willingly committed murder to save Tamlin, her lover and High Lord of the Spring Court.  She has constant nightmares and wakes up in a cold sweat, reliving the nightmares that Amarantha put her through over and over every single night.  It was absolutely heartbreaking to see my favourite character going through so much pain but it was hardly a surprise.  At the end of ACOTAR, it was clear to see that Feyre would be going through a lot to overcome what she had done, what had been done to her.
Tamlin, on the other hand, fared no better.  He was on edge, scared and insecure, but more than anything else he was lost.  Of course, his insecurity made him do a lot of things—things that I, myself, am pretty amazed he would do, but there you have it.  Trauma changes people (even High Faes) in ways we can never predict.  But more on Tamlin later, because Rhysand is the male I want to talk about.
From the first time I read about Rhysand in ACOTAR, I knew that there was a lot more to his mocking, arrogant nature.  He was unapologetic and cruel, but I wasn't too sure that that was it.  There was more, something he kept hidden all throughout, something that made him starkly different from what he showed he was.  And of course, I shipped Feysand from the very beginning, so there was that.  What really set the Rhysand of ACOMAF apart from any other character was the change in him.  Rhys too was a victim of Amarantha, forced to service her for fifty years, and with his freedom, he was someone else entirely.  He was broken and twisted, but by God, was he (and probably always will be) the man of my dreams!
The new characters that were introduced in ACOMAF were beyond amazing.  Without spoiling anything, this is me daring you not to fall in love with this lot.  They are talented and brave and by the end of the book, they are your family.  It was an experience like no other.  But what I loved most about ACOMAF was that there wasn't one dull moment.  Things kept happening, happening, happening, but not once does the plot escape the reader's understanding.  It was a thrilling and unique and nerve-wrecking, but hell if I'll trade the experience for anything else!  All you gluttons for punishment, thrive.  This is the book that will leave you starving and begging and crying for it's end, but what you'll get is a year long wait, and re-reads to keep you company 😃
SPOILERS
 Here's where I bring out those CAPS.  First off, thank the good Lord for not sinking my ship—for once,  Instead, it became canon!  WHAT?!  I was hoping, praying, ready to sell my should for Feysand and it fucking happened.  Take that, canon shippers.  And so many ships!  SO MANY NEW SHIPS!  My poor heart :')
Let's begin with Tamlin.  Let me make this one point clear: I didn't feel anything for Tamlin beyond pity.  He was overprotective and didn't listen and was almost choking Feyre with his asshole way of keeping her safe…and I pitied him.  I know, for a fact, what it is to watch a person you love almost die, what it does to you afterward, and Tamlin and his behaviour brought all of those feelings back for me.  It was awful, but I understood him.  Mind you, I didn't agree with his methods—they were stupid and he obviously wasn't thinking clearly.  But grief is a thing, ladies and gents, and this thing can change you fundamentally.  Which is why I'm going to go ahead and say that I wasn't very surprised to see him working with the King.  But that's all I'm going to say about Tamlin.
Rhysand was just…he just was.  He was basically everything you would want in your wildest dreams.  Like I said, he had motives and all those motives were finally revealed in ACOMAF.  And at the end of ACOTAR when he stares at Feyre, shocked, and stumbles?  Explained too!  And it was exactly what I thought it would be, and it made me one happy bean!  What I loved about Rhysand and Feyre was that unlike Tamlin and Feyre, I could see them fall in love with each other.  This wasn't a love born out of kindness and gentleness, but a love that burned hot and bright and just took over the book, leaving me an absolute mess.  They were angry and messed up and perfect for each other!
ALSO:  CHAPTER 54.  CHAPTER 55.
All in all, I think ACOMAF makes a more than satisfying sequel to ACOTAR.  It had twists and turns and non-stop action.  Court politics formed the tricky foundation this book sits on, and rest assured, you'll absolutely find something and someone to love in this book.