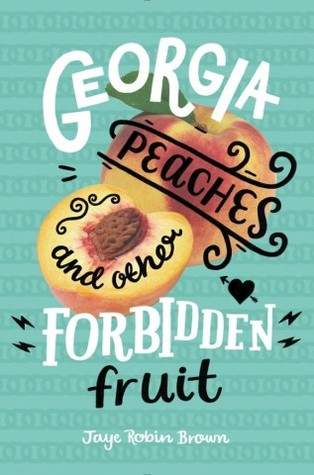 Title : Georgia Peaches And Other Forbidden Fruit
Author : Jaye Robin Brown
Genre : Young Adult, Contemporary
Publication Date : August 30th, 2016
Publisher :  HarperTeen
| Goodreads | Amazon | 
Joanna Gordon has been out and proud for years, but when her popular radio evangelist father remarries and decides to move all three of them from Atlanta to the more conservative Rome, Georgia, he asks Jo to do the impossible: to lie low for the rest of her senior year. And Jo reluctantly agrees.
Although it is (mostly) much easier for Jo to fit in as a straight girl, things get complicated when she meets Mary Carlson, the oh-so-tempting sister of her new friend at school. But Jo couldn't possibly think of breaking her promise to her dad. Even if she's starting to fall for the girl. Even if there's a chance Mary Carlson might be interested in her, too. Right?
REVIEW
The only reason I didn't pick this one up earlier is because the name of this book just…bothers me.  It makes no sense, I know, and this is a whole new page out of the Don't Judge By The Cover book, but yeah.  Not super impressed with the name.  But now that I've read the book and taken the time to stew about it a little, you can rest assured that my views are completely independent of my opinion on its name 😃
Georgia Peaches and Other Forbidden Fruit is beautiful with its many flaws.  It's heartwarming and funny and enlightening, all the while also being important and nuanced.  Joanna is a lesbian with an accepting preacher father and a small town stepmother.  She's comfortable in her sexuality, and in Atlanta, all is well.  Until, of course, Jo's father decides that their little family will be moving to Rome, Georgia.  A conservative town and home to Jo's step-mother, Rome is going to be challenge for big town girl Jo in itself.  But that's not all.  Her father wants her to "lay low" for the rest of her senior year.  Basically he doesn't want people to know that she's queer, and Jo reluctantly agrees.  While in Rome, though, struggling to keep her father's trust, Jo finds a new obstacle—she's starting to fall for Mary Carlson and things are starting to unravel when her web of lies explodes.
The book straddles the line between expecting the reader to suspend belief and accepting poor fiction—the fact that Jo's father is comfortable with her sexuality, accepting of her and still asks her to lay low?  That doesn't seem like the action of a supportive father.  But Georgia Peaches is more situation based than character dependent, so I learnt to just roll with the flow of the story.  I rather liked Jo—she was funny and kind and averse to drama and in so many ways, I saw myself in her.  She was also motivated; wanting to start a radio show to reach out to youth and take about faith was a unique goal and Jo seemed intent on making it happen for herself.
Again, the book was cute and it definitely had its serious moments, but the mix of miscommunication with hacking lesbians, and bitchy theatre lesbians kind of felt over-the-top.  It felt like the book was trying too hard to retain the reader's attention, which with a book like this one was completely unnecessary.  These secondary characters that also sometimes served as de facto villains did really nothing substantial for the plot, and their lack of depth just made them gnatty annoyances to read.
I did like Joanna's growth during the book—it was something I was looking forward to from the very beginning, particularly with her new stepmother.  She used to call the number Three and it did sort of turn to "mom" in the end and I really liked seeing the journey she took to get there.  Jo's dad was someone that I really couldn't connect with until the end, but I realise that sometimes you just don't like a character, and there's little you can do about it.  I knew that moving to a small town would be quite life-changing for Jo, and it made me happy to see that it all worked out for the best in the end.
Overall, I liked the book enough to recommend it.  It deals with the complex relationship that many queer teens face with their faith, and I think that it does so in a way that teens will be able to relate with.  The only bit that I didn't like was that the entire story kind of felt it relied on the assurance that the reader would just kind of go with the storyline which not only seemed unrealistic but also quite frankly, unnecessary.  If you do intend to pick this book up for the queer romance, then you might be disappointed, but on the bright side, it also beautifully promotes the thought that being different from any sort of majority does not have result in alienation and contempt.  And that's the only message I'll be taking away from this book.
I WAS PROVIDED A FREE EARC OF THIS BOOK BY Harperteen THROUGH Edelweiss IN EXCHANGE OF AN HONEST REVIEW. THIS DID NOT IN ANY WAY, HOWEVER, INFLUENCE THE CONTENT OF THIS REVIEW.