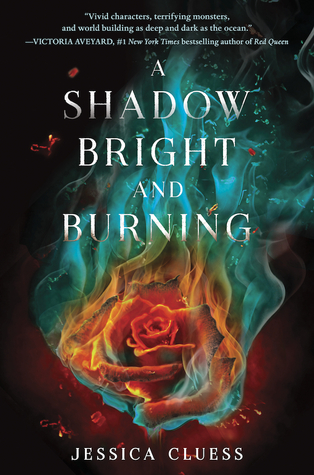 Title: A Shadow Bright And Burning (Kingdom On Fire #1)
Author : Jessica Cluess
Genre : Young Adult, Fantasy
Publication Date : September 20th, 2016
Publisher :  Random House Children's
| Goodreads | Amazon |
I am Henrietta Howel. The first female sorcerer. The prophesied one. Or am I?
Henrietta Howel can burst into flames. When she's brought to London to train with Her Majesty's sorcerers, she meets her fellow sorcerer trainees, young men eager to test her powers and her heart. One will challenge her. One will fight for her. One will betray her. As Henrietta discovers the secrets hiding behind the glamour of sorcerer life, she begins to doubt that she's the true prophesied one. With battle looming, how much will she risk to save the city—and the one she loves?
REVIEW
This book that pulled me out of a slump that lasted almost 15 days.  It. was. glorious.
A Shadow Bright And Burning is based in London at the time of the Victorian era.  Henrietta Howel discovers that the powers she has lived with all her life are in fact the powers of a sorcerer—that she is a sorcerer—and where she thought she'd be executed for being one, the young Queen Victoria needs her.  That is basically all you need to know about this book before you dive in, because trust you me, this book has some crazy twists and turns, and the lesser informed you are the better.
 One of the reasons I chose a fantasy book to help me out of a slump was singularly because for me, fantasy almost never disappoints.  This book was no different. It has a lot to bring to the table—Victorian London admits fantasy, and powerful political undertones, to name a few—but nothing impressed me more than the protagonist Nettie herself.  I'll admit, I wasn't the greatest fan of the girl in the beginning.  Her voice seemed a bit immature to me, and I wasn't sure if I'd be able to read an entire book based on a voice I wasn't the greatest fan of.  But the book starts of with a bang and around the 10% mark, it really started to pick up.  I was hooked and found myself rooting for this badass albeit, not entirely flawless heroine.  In many ways I saw the spirit of Katniss and Feyre in Henrietta, and I was sold.
The men in the book however were…less stellar.  Where Henrietta was this living, breathing dynamo, I found the boys to be a little too immature for the responsibilities they had.  That being said, however, I did have favourites and I did have a ship.  Obviously.  Non-canon as fuck, and it had low-key Pride and Prejudice vibes, so he he he he.  However, there is nothing that;s been set in stone yet—and the most obvious ship in the book may not set sail at all because reasons.
The fantasy part of the story was very very well done.  No info dumps whatsoever—just pieces of information given to the readers when they should be, and not too much drama and clichéd situations.  Just the right amount of spice and action and backstory to keep you at the edge of the seat.  The whole deal with the "Ancients" having powers beyond the destroying capability of a single sorcerer, and curses and secrets and lies—it just made the story deeper, gave it more character and most definitely assured my return to its sequel 😃
GIVEAWAY
Contest is open to US only unless stated otherwise.
Entrants must be age 13+
Contestants that use dummy or contest only accounts to enter will be disqualified. Winners will be notified by email after the contest has ended, and the the winner's name will be announced in the Rafflecopter widget.
Winners have 48 hours to respond, or another winner will be chosen. We're not responsible for items lost or damaged in the mail.
We hold the right to end a contest at any time, without prior notice. We hold the right to disqualify any entry as we see fit.
JESSICA CLUESS is a writer, a graduate of Northwestern University, and an unapologetic nerd. After college, she moved to Los Angeles, where she served coffee to the rich and famous while working on her first novel. When she's not writing books, she's an instructor at Writopia Lab, helping kids and teens tell their own stories.
I WAS PROVIDED A FREE EARC OF THIS BOOK BY Random House bfyr THROUGH NETGALLEY IN EXCHANGE OF AN HONEST REVIEW. THIS DID NOT IN ANY WAY, HOWEVER, INFLUENCE THE CONTENT OF THIS REVIEW.